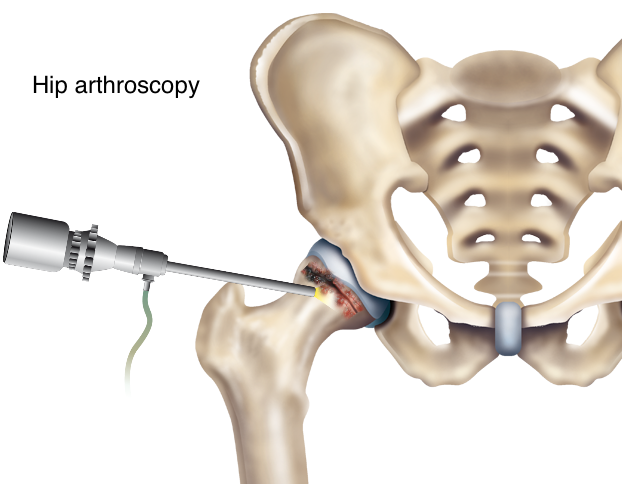 When is Hip Arthroscopy an Effective Course of Treatment?
Arthroscopy is a surgical technique that has revolutionized procedures to solve knee and shoulder joint problems, and these surgeries are performed routinely. Hip arthroscopic surgery is performed much less frequently, because the problems that potentially can be treated this way are much less common. From a technical standpoint, the hip joint is difficult to arthroscope and historically the results of hip arthroscopic surgeries have been much less predictable than with other procedures. As a result, not many orthopedic surgeons even do the procedure. Here's what a candidate for this type of surgery can expect.
During arthroscopy, an orthopedic surgeon makes two or three small incisions through which pencil-thin, specialized instruments, including an arthroscope, are inserted into the joint. The arthroscope contains a camera lens which magnifies and illuminates the interior joint structure. This information is transmitted by fiber optics to a visual monitor, resembling a TV screen, allowing the surgeon to see the interior of the joint and assess any injury or abnormality that is present. Some conditions can be repaired or corrected by using these specialized surgical instruments.
However, hip arthroscopy is more challenging than knee or shoulder arthroscopy because the hip is located deep within layers of muscle and other important structures such as nerves and blood vessels. To make it easier for the surgeon to visualize the joint, a patient is placed on a special surgical table and traction is applied to the leg being arthroscoped to slightly separate the joint. Nerves potentially can be injured by this traction and care is taken to prevent this.
The beauty of hip arthroscopic surgery is that it is a much less invasive way to solve some hip problems rather than through a large, open incision.
Advantages to hip arthroscopic surgery are:
• Much smaller incisions are made.
• It typically is performed as an outpatient procedure.
• It fosters earlier and accelerated rehab, although depending on what problem is being treated, patients may be instructed not to bear full weight after surgery for a period of time or instructed to wear a hip brace to limit hip motion.
• For many patients, it allows them to return to normal activity faster than if a traditional, open incision procedure is used.
Who is a candidate for hip arthroscopy?
Usually this surgery is selected for people who have hip pain or instability and their hip. X-rays do not show significant arthritis or joint space destruction and often both x-rays and MRI scans only show minimal findings. These symptoms can go on for months to years because the diagnosis is not obvious. Many patients become frustrated and even depressed because they know something is wrong, but diagnosis and treatment are not readily apparent.
What we've found is that hip arthroscopy has been most effective in treating conditions which include:
• Impingement: This is when a person experiences pain during full hip movement, because the neck of the femur pinches into the rim of the hip socket. Techniques have been developed to address impingement by removing the excess bone on the rim or femoral neck and then surgically repairing or tacking the labrum back to the rim.
• Labral Tear: A tear in the thick tissue that surrounds the hip socket. The labrum helps to support the hip joint and when a tear occurs, a piece of this tissue can be pinched and cause pain. Note, if the labral tear is secondary to an underlying mechanical problem, then only treating the torn labrum and not the primary cause of the tear might provide temporary relief, but will not solve the problem. Often, patients who develop a labral tear due to impingement and undergo hip arthroscopy don't do well unless the cause of the impingement also is addressed.
• Loose Bodies: When pieces of cartilage and/or bone break off and remain within the joint. These small, floating pieces can become caught in the hip during movement. This can make you feel as if your hip were locked or stuck and often results in sudden pain. Loose bodies often can be removed arthroscopically.
• Synovitis: When the lining of the hip joint is inflamed and causes pain, it can be partially removed by arthroscopy. This can reduce pain, but it is important not to ignore the underlying cause of the inflamed synovium or the synovitis will return.
• Snapping Hip Syndrome: Characterized by a snapping sensation and sometimes an audible popping noise when the hip is flexed and extended. There are several causes, but most common is when tendons or soft tissue catch on bone and then snap when the hip is moved. The offending tendon on soft tissue can be released or trimmed to relieve this.
• Cartilage Damage: Arthritis is a condition where the cartilage overlying the femoral head or lining of the hip socket is damaged or worn away. Micro fracture is one technique used to slow or stop arthritic progression and encourage healing. Tiny holes are created in the bone that supports the cartilage. This causes the bone to bleed, which stimulates a healing response. Fibrocartilege will grow and cover this area of the bone, and this sometimes can slow the progression of arthritis and relieve pain. Some patients do well; some do not. Your doctor might suggest this procedure, depending on the size and location of the lesion.
As with any surgical joint procedure, there can be complications including infection and continued pain after surgery. A significant concern is with the important nerves and blood vessels that surround the joint. While nerve damage is uncommon, it is important to discuss your particular condition with your surgeon.
Although I routinely perform knee arthroscopy, I do not perform hip arthroscopy. I do, however, see many patients who come to me after they have had a hip scope and are not doing well. These patients require total hip replacements. I recognize that I only see the population that has not done well; many patients greatly benefit from hip arthroscopy. When appropriate, I occasionally refer patients with hip pain to a doctor who performs this procedure.
Arthroscopic hip surgery is new and the indications and techniques still are being defined. Surgeries to treat hip laxity and different types of impingement continue to be refined. These are technically difficult surgeries and their outcomes are less predictable.
My impression is that young patients tend to recover better and more predictably than older patients, primarily because they have less underlying arthritis or cartilage damage. Also, when we are younger, our tissue quality is better and we have more healing potential. Patients with an acute injury that lead to a hip problem, such as a torn labrum, seem to do better than those with less-defined causes and symptoms, or those with long-term conditions.
If an acute injury leads to a problem and it is treatable arthroscopically, then it is to the patient's advantage to be treated sooner rather than delay the surgery. If a patient has hip dysplasia (on the x-ray, it looks like the femoral head is not fully covered by the socket or acetabulum) and a torn labrum, then hip arthroscopy won't lead to a good result and I wouldn't recommend it.
For a young person hoping to avoid a total hip replacement or some other procedure, arthroscopy might be a reasonable alternative. It is important to be fully educated regarding the risks.
Also, make sure you chose a surgeon who has performed a significant number of hip arthroscopic surgeries. Talk frankly with your doctor about his or her surgical success rates as well as the potential success rate for your particular problem.
We thank you for your readership. If you would like a personal consultation, please contact our office at 954-489-4575 or by email at LeoneCenter@Holy-cross.com.
https://holycrossleonecenter.com/wp-content/uploads/2018/12/hip-arthro1.png
484
622
Joseph Corsino
https://holycrossleonecenter.com///wp-content/uploads/2017/11/Leone-Center-Logo@2x.png
Joseph Corsino
2013-01-03 16:05:21
2019-10-19 09:37:33
When is Hip Arthroscopy an Effective Course of Treatment?