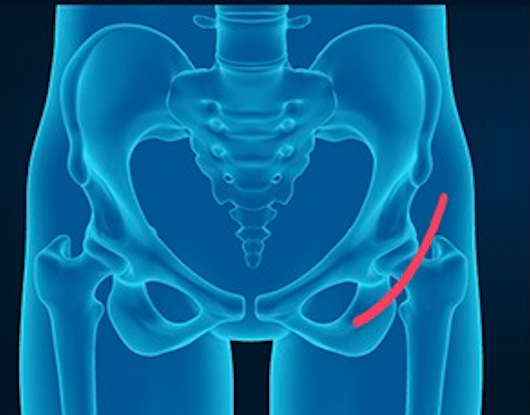 Anterior Approach for Hip Replacement: Advantages and Disadvantages
There are many well-established surgical approaches to the hip.  Two surgical approaches for total hip that have gained recent notoriety are the direct anterior approach and the minimally invasive or mini-posterior approach.
The direct anterior approach involves splitting the fibers between the two main muscles located at the front of the hip and working through a natural interval between the muscles.
Advantages of the Anterior Approach
Because the anterior approach exploits a natural interval between muscles, it is hoped it will result in a quicker recovery.  This has not been shown to be true through scientific study.  Some studies have shown a short term benefit which disappears after the initial healing period.
Some tout the Anterior approach is more minimally invasive than other approaches, but honestly, the definition of minimally invasive is not clear or agreed upon.  It is not related to the length of the incision, which is about the same for both approaches.
The hip dislocation rate may be lower than the classic posterior approach due to the preservation of the muscles on the top and outside of the hip.
The hip socket exposure is straight forward.
Disadvantages of the Anterior Approach
The Anterior Approach has the highest incidence of nerve injury, with loss of sensation to the top and outside of the thigh most common.
There is an increased risk of the femur breaking or fracturing due to increased difficulty in exposing and visualizing the femur during reconstruction.
If a fracture does occur, it is more difficult for the surgeon to expose and repair it.  Sometimes it is necessary to add an additional approach requiring an additional incision.
Because femoral exposure is more difficult, frequently the femoral stem is not implanted down the middle of the femoral canal. This can result with the end of the hip stem pushing against the inside of the femoral cortex and cause pain.
A number of articles have reported an increased incidence of infection and wound problems.
Since 2020 I am doing the SPAIRE Technique with a mini posterior approach. I believe this is the best of both worlds. There are no post-operative hip precautions or restrictions and it enjoys the lower complication rate of a classic posterior approach. Click here to read about the SPAIRE Technique – The most muscle-sparing and minimally invasive hip approach with no hip precautions. 
We thank you for your readership. If you would like a personal consultation, please contact our office at 954-489-4575 or by email at LeoneCenter@Holy-cross.com.
https://holycrossleonecenter.com/wp-content/uploads/2018/12/Screen-Shot-2018-12-10-at-4.21.08-PM.png
415
530
Joseph Corsino
https://holycrossleonecenter.com///wp-content/uploads/2017/11/Leone-Center-Logo@2x.png
Joseph Corsino
2010-09-05 19:36:34
2022-04-21 17:38:53
Anterior Approach for Hip Replacement: Advantages and Disadvantages