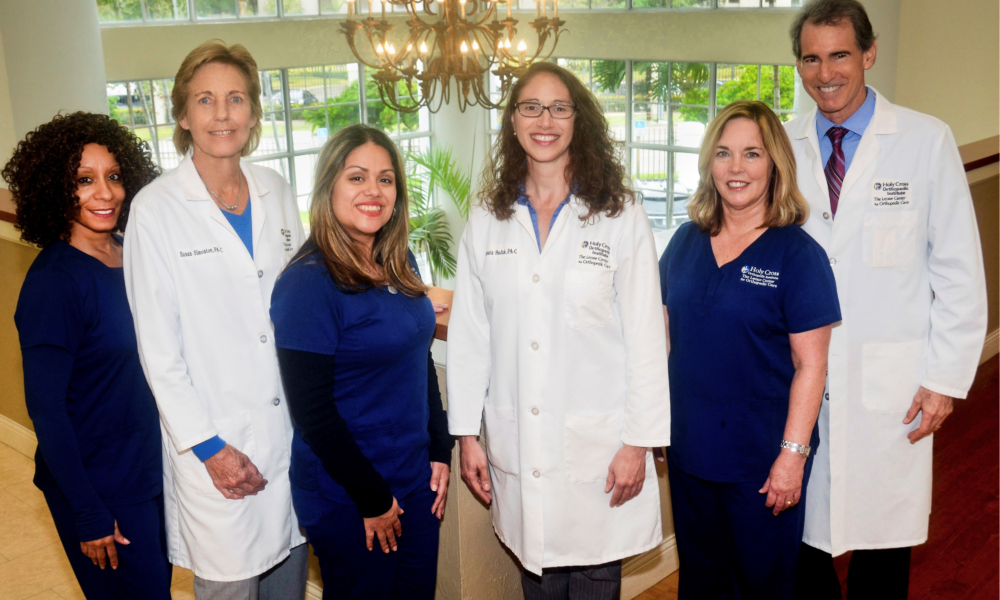 The Leone Center for Orthopedic Care, a 'Destination Practice'
In 2009, Dr. William A. Leone, head of The Leone Center for Orthopedic Care at Holy Cross Hospital in Fort Lauderdale, made a compassionate and well thought-out decision, transforming the business model for his orthopedic practice.
Dr. Leone created a destination practice, intentionally reducing the number of cases he would accept. Fundamentally, a destination practice, sometimes referred to as concierge medicine, is a personal, in-depth relationship between physician and patient.
The shift led to a new level of orthopedic care and enabled Dr. Leone and his staff to achieve consistently superb clinical results while also providing an optimal experience. He still utilizes cutting-edge technology and the latest proven techniques for solving complex hip and knee problems but his ability to focus individually on each patient has been significantly enhanced. This heightened level of personalized and attentive care benefits patients both physically and emotionally.
"Central to our model is prioritizing our patients' peace-of-mind while respecting their time and dignity," said Dr. Leone. "From the moment the first appointment is made, through surgery and rehabilitation, patients are treated with compassion and their concerns are our top priority."
The comprehensive approach begins with the initial consultation and are carried through to post-operative care. Patients are guaranteed increased availability with Dr. Leone and his entire staff, are assigned a designated and responsive patient liaison, and are educated about what to expect throughout the entire process. This ensures each patient's entire experience is as positive and comfortable as possible, resulting in successful procedures and faster recoveries. Patients often go home the day of or the day after surgery.
"My patients are out of bed and start walking the day of their surgery and most want to go home shortly after surgery. For most home is happier. Home is also safer than rehabilitative units and I see that patients get well faster when they go home because they do more for themselves" said Dr. Leone.
Dr. Leone attracts patients from all over the world who travel to Fort Lauderdale for an expert consultation, and if warranted, hip or knee surgery. These patients elect to have surgery after exhausting all conservative treatments. Their quality of life is impacted by pain and progressive inability to remain active and independent. Often patients express frustration and feeling unhappy and tell they simply wish 'to get their lives back'. That they again want to resume living an active and social lifestyle. At this stage, joint replacement may be the only viable option that will relieve pain and allow them to fully reengage in life, both personally and professionally.
Hip and knee problems are very common.  They occur in people of all ages and are caused by a variety of issues, ranging from problems starting at birth or during childhood to injury to inflammatory arthritis such as rheumatoid.  Dr. Leone cares for patients of all ages – some in their 20s through others in their 90s – and each has successfully benefited from a partial or total hip or knee replacement.
"My profession is extremely rewarding and I am constantly reminded why I became a doctor," said Dr. Leone. "I am humbled by how transformative and life-changing these surgeries can be. Patients are tremendously grateful, not just for relieving their pain but also regaining their mobility and their quality of life".
Dr. William A. Leone is head of the Leone Center for Orthopedic Care at Holy Cross Hospital in Fort Lauderdale and has earned a reputation as one of the nation's top orthopedic surgeons. An orthopedic surgeon with extensive experience, his specialty is solving complex hip and knee problems.
We thank you for your readership. If you would like a personal consultation, please contact our office at 954-489-4575 or by email at LeoneCenter@Holy-cross.com.
https://holycrossleonecenter.com/wp-content/uploads/2018/01/Team-Image.jpg
1997
3001
Joseph Corsino
https://holycrossleonecenter.com///wp-content/uploads/2017/11/Leone-Center-Logo@2x.png
Joseph Corsino
2017-11-17 14:19:28
2022-03-30 09:48:44
The Leone Center for Orthopedic Care, a 'Destination Practice'