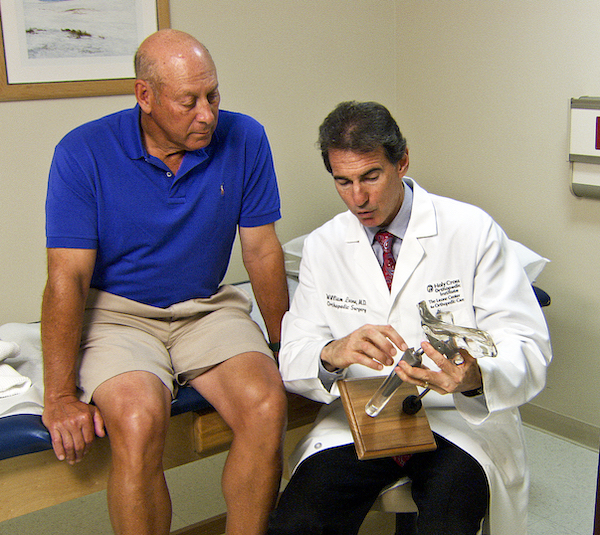 Top Five Questions to Ask an Orthopedic Surgeon about Hip and Knee Replacement Surgery
The science and technology of joint replacement continue to evolve, so it is no surprise that patients have many questions and concerns as they navigate the process of finding the right orthopedic surgeon and determining the best approach to achieving the outcomes they desire. To begin the process, here are five important questions you should ask to find the right surgeon for you.
1. How many surgeries of this type have you performed?
An orthopedic surgeon who is highly experienced in the type of surgery you require brings valuable expertise and typically has built an experienced team to assist with all aspects of patient care, from the new patient interview through post-operative care. Working with a skilled, well-coordinated team of healthcare professionals goes a long way in addressing unexpected situations and assuring a calm, reassuring and successful experience.
2. What is your infection rate?
Ask the orthopedic surgeon if he or she has a recent complication rating from a reputable company that compares healthcare data. Preventing infection is a priority after joint replacement, as with all surgeries. Infection can impact the new joint, even necessitating additional surgery and removal of the prosthetic joint.
3. What is your incidence of short- and long-term complications?
Talk with the orthopedic surgeon about the surgical and operating techniques that will be used. Low infection rates, minimal complications, and successful outcomes are more assured when the operating theater is equipped with ventilation that reduces the number of infective organisms in the air and the entire surgical team wears body exhaust suits to reduce the risk of infection.  The orthopedic surgeon should have a rating to share with you.
4. How long have you used your current prosthesis, and what are your reasons for having selected it?
An orthopedic surgeon should know from personal experience with and repeated use of any prosthesis, which are optimal, safe, long lasting and provide the best results.
5. What level of attentive care can I expect throughout my surgical experience?
Most importantly, you need to feel comfortable not only with the orthopedic surgeon but with the entire staff as well. Don't be afraid to ask questions such as:
Will I be able to make an appointment within a reasonable amount of  time?
How will I be able to ask questions and will they be answered in a timely manner?
How will the surgeon and staff make the entire experience as comfortable and easy as possible?
The candid discussion you have with an orthopedic surgeon to familiarize yourself with the benefits and risks of your surgery may be the most pivotal part of your care.
We thank you for your readership. If you would like a personal consultation, please contact our office at 954-489-4575 or by email at LeoneCenter@Holy-cross.com.
https://holycrossleonecenter.com/wp-content/uploads/2018/12/Leone-with-Eric-4.jpg
535
600
Joseph Corsino
https://holycrossleonecenter.com///wp-content/uploads/2017/11/Leone-Center-Logo@2x.png
Joseph Corsino
2012-01-04 16:42:18
2019-10-19 10:04:24
Top Five Questions to Ask an Orthopedic Surgeon about Hip and Knee Replacement Surgery