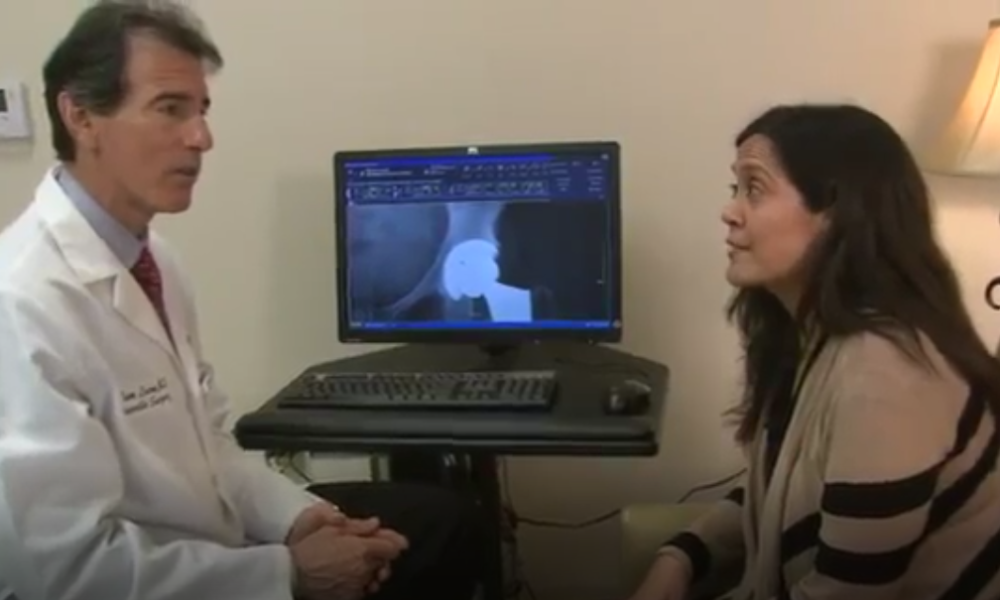 For Posterior or Anterior Total Hip Replacement Surgery, Choosing the Right Orthopedic Surgeon is What Matters Most
Two years ago, I posted a blog detailing the pros and cons of mini-posterior versus direct anterior total hip replacement surgery (THR). The overwhelming response to that blog article (click on the link above to view) prompted me to provide this update.
I am a member of the AAHKS (American Association of Hip and Knee Surgeons) and attended the annual meeting in November 2015. This highly regarded, international meeting brings together surgeons, thought leaders and manufacturers from around the world. A number of well-designed, peer-reviewed papers, posters and exhibits were presented comparing the posterior approach to the anterior approach. In this blog, I will share some new information and conclusions from those studies.
I'm going to begin with the conclusion: "It's not so much the surgical approach, but the individual who actually is doing the surgery that is most important." Understand that each time I care for a surgical patient, I must make "a million small decisions" so that in the end, my patient not only has the absolute best result but also the best experience. Which approach I will use is only one of those decisions, and one I don't consider the most important.
Experience cannot be overemphasized. Choose a surgeon with whom you are comfortable and treats you and not your X-rays. It's also important to choose a hospital with a proven track record and reputation for excellence in joint replacement surgery.
The primary goal for anyone considering hip replacement surgery is to find a doctor you trust and who has an excellent reputation for performing THR. You want a surgeon who will spend the time to make a clear diagnosis and develop a plan that will meet your individual needs and goals. Also critically important is that your doctor has a support team that is welcoming, nurturing and knowledgeable.
At this year's meeting, several studies looked at standard patient outcome measurements, such as length of hospital stay, readmission and dislocation rate, and did not find a significant difference between THR patients reconstructed anteriorly versus posteriorly.
One study did report an increased incidence of infection when the anterior approach was used. Another reported increased wound problems when obese patients were reconstructed using the anterior approach, compared with the posterior approach, but this study did not find the infection rate statistically different.
Another study reported an increased incidence of femur fractures in patients over 70 years old when the anterior approach was used. This incidence increased further when patients had with low BMIs.(Body Mass Index).
An interesting study focused specifically on the impact of short-term patient outcomes and found the functional outcome scores were higher at six weeks for the anterior and posterior approaches, compared to the lateral approach, but all were statically equal by three months.
These findings directly contradict what is often advertised: that patients who are reconstructed using an anterior approach get well faster. This study did report an increased incidence of lateral femoral cutaneous nerve sensory deficits in the anterior group. This is a well-known and unfortunate complication of the anterior approach.
Many authors discussed the lack of consensus and the "plethora of information available to patients via the internet and other avenues," which has created significant confusion regarding THR surgical approaches. Many centers advertise that one approach is better than another. Here I reemphasize, what is more important is who actually is doing the surgery.
Another important study compared THR patients reconstructed anteriorly by one of two surgeons who exclusively use the approach to another group of matched patients reconstructed posteriorly by two different surgeons who exclusively use the posterior approach. Both groups of patients were operated on at similar, dedicated joint-replacement facilities. The study concluded that the surgical approach had no bearing on six-month postoperative Patient Reported Outcome measures (PRO) when comparing the two studied approaches. Furthermore, the authors concluded, "Surgeons that exclusively perform one surgical approach can achieve equivalent PRO results."
At the Leone Center for Orthopedic Care, my entire team is involved in your procedure from the first appointment through rehab. I treat my patients with good, "old-fashioned care," which starts with an in-depth history and thorough physical examination. While many consider this a "thing of the past," I feel it's critical for understanding my patient's symptoms and concerns and to provide the best care. High-quality X-rays also are very important. Occasionally, additional scans or tests are needed to further define the pathology. At the Leone Center, we are fortunate to be equipped with the latest technologies, including computer navigation, robotics, and superb imaging equipment. Technology, however important, is not a substitute for gentle and precise soft tissue handling and being cared for by a detail-oriented team that is kind, experienced, engaged and accessible.
Beyond the doctor's office, you want to make sure the hospital has a proven reputation for excellence in joint replacement surgery. Find out about the patient accommodations the hospital offers, from the operating theater to post-op therapy. Holy Cross Hospital has an award-winning orthopedic wing and an expert and caring staff of professionals.
When you find a doctor with whom you feel confident, discuss his or her procedure preference for your THR to understand the reasons why. Personally, I no longer use the anterior approach for THR, the reasons for which I detailed in another blog (click on the link above to read). I choose the approach that in my hands has the highest chance of me being able to reproducibly create the best result with the least trauma, least chance of transfusion and the fastest recovery. It is what I would want for me or my family.
The particular doctor who cares for you and where you have your surgery can potentially make a huge difference in obtaining an optimum outcome. For most, having a hip replacement is life-changing. Many individuals travel from their homes for this very specialized care because they feel they will have a better chance of doing well.
Because we care for so many patients who do travel from all locations across the U.S. and throughout the world, my staff at the Leone Center is geared toward helping with all sorts of arrangements. We've also established an international department at Holy Cross Hospital to make the entire process smoother and more satisfactory.
Total hip replacement has been one of the most successful operations ever developed. When done well and performed for the correct indications, there is an extremely high probability that pain will be relieved. When pain is relieved, function improves and people become more active. For some, having a hip replacement means not giving up independence and mobility. For others, it means they again can participate in activities about which they are passionate, such as tennis, skiing, golf, dancing, hiking and much, much more. Quality of life is precious. For many, this surgery provides that.
In addition, as of 2021 only Dr. Leone is using the latest hip technique called the SPAIRE technique where patients no longer have hip precautions after surgery. For details please read his blog on this technique.
We thank you for your readership. If you would like a personal consultation, please contact our office at 954-489-4575 or by email at LeoneCenter@Holy-cross.com. General comments will be answered in as timely a manner as possible.
https://holycrossleonecenter.com/wp-content/uploads/2017/04/Dr.-Leone-with-patient-hip-x-ray.png
605
1173
Joseph Corsino
https://holycrossleonecenter.com///wp-content/uploads/2017/11/Leone-Center-Logo@2x.png
Joseph Corsino
2017-04-04 09:08:32
2022-12-12 10:44:03
For Posterior or Anterior Total Hip Replacement Surgery, Choosing the Right Orthopedic Surgeon is What Matters Most