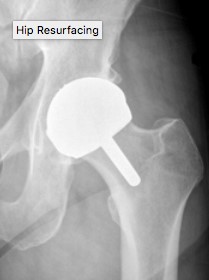 Hip Resurfacing or Total Hip Replacement: A Candid Discussion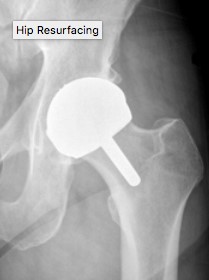 I recently read an article that cited a case study from France indicating that 90 percent of the patients in the study who were runners prior to hip resurfacing procedures resumed the activity afterward.  A common perception in some circles is that hip resurfacing is the trendy option for younger patients and athletes.  Likewise, many older or more sedentary individuals may seek out this procedure because they too want to be more youthful and sporty.  I believe this study probably has more to do with patients in the survey choosing hip resurfacing because they thought that would enable them to run more successfully afterward, than the actual merits of the procedure.  In reality, patients with total hip replacements can resume the activities they enjoy just as easily as those who have had hip resurfacing.
Hip resurfacing, unlike total hip replacement surgery, is a procedure that reshapes the damaged hip ball, which then is capped with a metal prosthesis.  The damaged hip socket also is fitted with a metal prosthesis. The socket used with resurfacing is a one-piece cup with its inner surface polished.
Most modern day sockets used in total hip replacements are composed of two main components: a metal socket into which bone grows and a plastic liner. This is an important distinction because if for some reason the hip fails and more surgery is necessary, the entire socket in a resurfaced hip most likely will need to be removed and replaced with a new one. If a total hip replacement fails, requiring more surgery to revise the socket, it is designed so that only the plastic liner has to be revised, not the metal shell.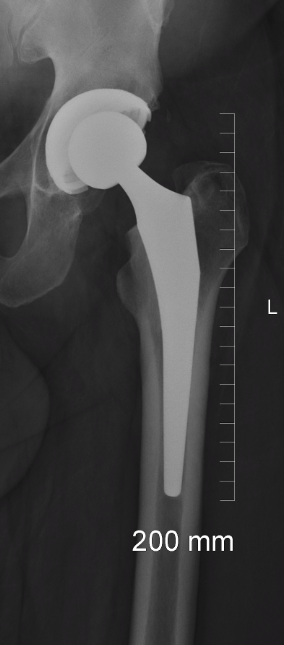 Another reason why hip resurfacing has attracted younger patients is because less bone is removed from the femur with a hip resurfacing procedure than with a total hip replacement. This is important because if the resurfaced hip fails, then having more femoral bone available will make the femoral revision easier. But, unfortunately, because the all-metal socket will need to be removed, there often is more bone loss on the socket side.  As a hip revision specialist I can tell you that it often is easier to deal with bone loss on the femoral side than on the socket side.
Also, the procedure to do a hip resurfacing actually is more complex and the dissection much more extensive than with total hip replacement surgery.
These reasons alone might make you rethink hip resurfacing, yet there is an additional reason why many orthopedic surgeons, including myself, have stopped performing this procedure.  As head of the Leone Center for Orthopedic Care, my main concern about hip resurfacing is the potential complication associated with the metal-on-metal bearing that is required for this procedure.  For all patients with this metal-on-metal articulation, there is increased cobalt and chromium accumulation in the body. In a small percentage of patients, the wear between the metal ball and the metal socket is accelerated and this can result in marked increased levels of metal particles locally at the hip joint and the surrounding tissue as well as throughout the body. Locally, this metal accumulation can result in massive soft tissue damage.  Although not fully studied and documented at this time, the ramifications of this increase in metal particle level in other parts of the body is of concern to those in the medical community.
As a specialist in hip reconstruction surgery, I am concerned that the accumulation of metal particles has the potential to cause so much local soft tissue damage that the results of the final reconstruction are greatly compromised.  Simply, I do not feel it is worth the risk.
Hip resurfacing also is not for older patients or those with conditions including osteoporosis, impaired kidney function, known metal hypersensitivities, diabetes, or for women or anyone with small bones because of the increased risk of bone fractures. Women who are pregnant or may get pregnant in the future should not consider hip resurfacing because of the concern that increased metal ions may cross the placenta to fetus.
In the United Kingdom, hip resurfacing is not being used at all for women because of the increase in early failure rates.  Because there is a potential for patients to develop conditions such as osteoporosis or diabetes as they age, that's another reason I choose not to use metal-on-mental prostheses.
Perhaps most enlightening is that hip resurfacing does not rule out the eventual need for a total hip replacement. In fact, there are advantages to having total hip replacement surgery even for younger patients because if done correctly, this procedure gives the patient a better range of motion, there is no risk from use of metal-on-metal prostheses and most importantly, we are finding most active patients can resume the sports, such as running, in which they had participated prior to surgery just as well those who have had hip resurfacing. Opting for the safest, most effective procedure greatly increases the chance for a successful outcome.
I feel strongly that the benefits of any new procedure must offset the risks and in my opinion, the benefits of resurfacing with metal-on-metal bearings do not, especially when total hip replacement, a well proven alternative, is available and has such an excellent track record.
We thank you for your readership. If you would like a personal consultation, please contact our office at 954-489-4575 or by email at LeoneCenter@Holy-cross.com.
https://holycrossleonecenter.com/wp-content/uploads/2012/03/hip-resurfacing-.jpg
280
209
Joseph Corsino
https://holycrossleonecenter.com///wp-content/uploads/2017/11/Leone-Center-Logo@2x.png
Joseph Corsino
2012-03-16 13:38:00
2022-04-21 17:29:03
Hip Resurfacing or Total Hip Replacement: A Candid Discussion