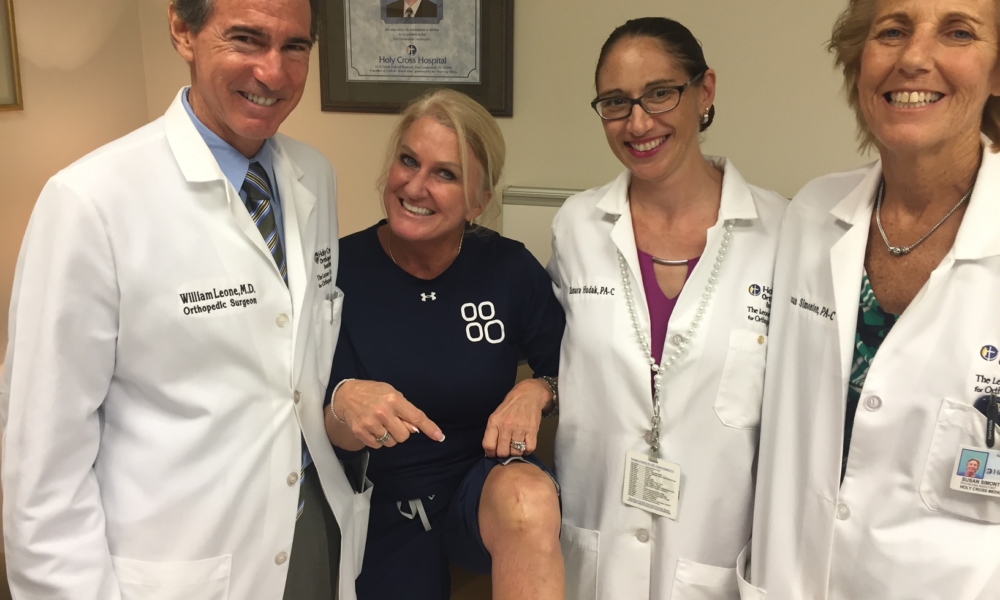 The Benefits of Partial vs. Total Knee Replacement
One of the most frequent questions we are asked at the Leone Center for Orthopedic Care is, "What are the benefits of a partial versus a total knee replacement?"
To answer that question, we first must explore the reasons why a particular patient may develop knee joint degeneration. At the Leone Center for Orthopedic Care, we see patients with complex knee problems of all types with joint and bone destruction including past trauma, bad outcomes from prior surgery, infection, rheumatoid or other inflammatory arthritis, or childhood diseases. Many patients have had prior open surgeries and arthroscopy.  Many patients have a strong family history for knee arthritis and deformity. And indeed, many patients present with significant angular deformities. Unfortunately, knee arthritis is clearly linked to obesity, which we recognize now as epidemic in our country. Although knee osteoarthritis is not found in everyone as they age, it is more common with aging.
As the knee degenerates, the smooth cartilage that lines the knee joint deteriorates. This special cartilage helps remove friction, distributes the joint forces uniformly and helps cushion the forces by acting like a shock absorber. Unfortunately, this special type of cartilage is one part of the body that cannot repair itself. Once that cartilage is gone, it is gone permanently.
Orthopedic surgeons like to think about the knee joint as having three compartments There is the medial compartment (inside the knee), the lateral compartment (outside the knee) and the patellofemoral compartment (in front of the knee). The most common area for degeneration is the medial compartment. Although the arthritic process typically starts in one compartment, with time it progresses to the other compartments.
If a patient has degeneration in only one compartment, a partial knee replacement can be beneficial because only the one problem area is resurfaced, the implant is much smaller and only the bone and soft tissue that are unhealthy are reconstructed during the surgical procedure. This saves surgeons from having to sacrifice normal structures such as the cruciate ligaments or uninvolved compartments. Because the dissection is so much less, normal neurologic pathways that are often interrupted with total knee replacement are spared during the partial knee procedure. Some think this improves the information to our brains and helps us understand why patients often report partial knees feeling like normal knees.
Other benefits include:
Smaller incision with less soft tissue dissection; less blood loss
Lower probability of early complications
Decreased time in the hospital
Faster recovery time
Quicker return to normal activities
Increased range of overall motion and greater patient satisfaction with the outcome
Patients who are the best candidates for partial knee replacement include:
Patients with isolated degenerative disease in one or two compartments only
Those who still have a good range of motion prior to surgery
Those who have minimal deformity prior to surgery
Classical criteria such as age, weight or activity level are all being challenged recently, especially with our improved techniques to consistently reconstruct only the worn out part of the knee, perfectly re-balancing the soft tissue structures and re-aligning by use of robotics.
As a surgeon, I must stress that every case is unique and the decision to have a partial versus total knee replacement surgery should be made only after a careful diagnosis and recommendation by your doctor. As with any surgery, there also are challenges to partial knee replacement, including a higher failure rate for partial as opposed to total. Correctly assessing which surgery is best for a patient is critical to a successful outcome, especially after a partial knee replacement.
It also is noteworthy that there have been significant improvements in the design of prostheses and surgical techniques including robotics, which greatly increases precision to rebalance and realign the knee and correct problems.
For patients who are candidates for partial knee replacement, I choose the implant that is best suited to each person's medical and lifestyle needs. Implants are individualized for each patient's unique anatomy.
In the course of my medical career, I have performed thousands of successful joint replacements. My practice has an expert support team and system in place which has resulted in fewer complications, fewer readmissions, less than average length of stay in the hospital and lower medical costs than other specialty peer orthopedic doctors. This data is now published and has earned us a very strong reputation among our peers.
As with all surgical procedures, it is imperative to choose a surgeon with a proven track record in this specialty. Get to know and have confidence in your doctor. Feeling comfortable with your surgeon will have a positive impact on your overall surgical experience.
We thank you for your readership. If you would like a personal consultation, please contact our office at 954-489-4575 or by email at LeoneCenter@Holy-cross.com.
https://holycrossleonecenter.com/wp-content/uploads/2018/10/6-week-Partial-Knee-Post-Op-Appointment-Cheryl-Duany.jpg
1224
1632
Joseph Corsino
https://holycrossleonecenter.com///wp-content/uploads/2017/11/Leone-Center-Logo@2x.png
Joseph Corsino
2012-05-24 14:16:51
2019-10-19 09:54:37
The Benefits of Partial vs. Total Knee Replacement