Perception vs. Reality
Dr. William Leone's Approach to Knee and Hip Replacement Helps Patients Avoid Misconceptions
My team and I care for people from all around the world. No matter how different they are, what their diagnosis may be and how far they traveled to get here, most patients express similar concerns and anxieties. Some of their concerns are well founded and need to be addressed specifically. Other worries, whether rational or unfounded, can be equally as distressing and need to be addressed with information and reassurance. Respect for each patient's concerns is the hallmark of our caring, concierge practice and contributes significantly to our patients' excellent outcomes.
The most common fear of all is that the surgery will be terribly painful. The reality is that patients are getting well much faster and going home much sooner than ever before, in part because we are effectively regulating pain so well, in addition to advances in the surgical procedure. Routinely, patients walk just hours after a hip or knee replacement and most go home later that same day. This simply would not happen if patients were in a lot of pain and fearful about going home.
The second most frequent concern is about "going under." Some people, and particularly older adults, are terrified of general anesthesia. The reality is that the modern medicines our anesthesiologists use are shorter acting and more specific than those used historically. The complications people experienced after general anesthesia years ago are now successfully avoided.
Most of my patients have a spinal anesthetic combined with IV propofol and a local anesthetic. The propofol assures they are completely asleep and comfortable with no need to place a tube down their throat or control their breathing. The spinal anesthesia wears off more slowly than general anesthesia and helps control post-operative pain. I also routinely inject the tissues around the total hip or knee with a "cocktail' of meds which include a local anesthetic that further decreases pain. My knee patients also receive an adductor nerve block. This modern approach to pain management contributes to why my patients feel comfortable and walk so quickly.
There is some pain with any surgery, but it usually diminishes day-by-day. My patients get through the first 36 hours with very little pain due to the spinal anesthetic and the local "cocktail" injections, a pain protocol designed to stay ahead of the pain curve by decreasing and preventing pain. This has made a huge difference.
Once the surgery is over, rehab is a source of anxiety for many patients. While many feel empowered and encouraged by the prospect of exercising and rebuilding their strength, others fear that physical therapy will last weeks or months and be awful. Often it comes down to whether or not they have ever worked out in a gym. The fact is that physical therapy is an essential part of the recovery process and needs to be customized for each patient, in large part based on how physically fit they were before surgery.
Following hip replacement, most patients have a visiting physical therapist for two weeks and then continue on their own with walking and the exercises they were taught. If a pool is available, I encourage pool walking or swimming after two weeks when their sutures are removed. Some patients request or require more formal PT and that is fine.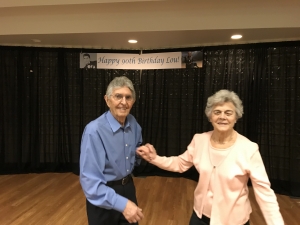 Most total knee replacement patients require more physical therapy than total hip replacement patients, while recovery from partial knee replacement tends to proceed along the same course as total hip patients. Many partial knee patients begin managing their own physical therapy after two weeks, while most total knee patients begin outpatient therapy after two weeks of home therapy and continue with their outpatient PT for four to six weeks. Some people need less physical therapy and some need more. Total knee patients typically take a "pain pill" an hour before their therapy.
The next most common fear is about being housebound and immobile for months. Patients simply are not housebound or immobile for months. I encourage patients who had a hip or knee replacement to get off their walkers or canes as soon as they feel confident and go out. I think getting out of the house, going back to work, going shopping or to dinner is therapeutic. I tell them that they got their hip or knee fixed. They are not sick. By being active and tending to their usual responsibilities, they stop focusing on their surgery and get busy. This is wonderfully therapeutic.
Many patients wrestle with the concern that pain and discomfort after surgery will deprive them of a good night's sleep. Some fear that changing positions while they are asleep can cause a complication. This concern is unfounded. Patients who had their knee replaced are encouraged to place a pillow under their heel to facilitate knee extension in bed for the first couple of weeks. It is not a problem if they move out of this position once asleep. They are not going to hurt their knee. Patients who had their hip replaced are encouraged to sleep in whatever position they are comfortable. Some find it more comfortable to place a pillow between their legs, but it is not a requirement and there's no harm if the pillow falls out. Sleeping on the operative side is also fine. There are no restrictions.
What likely does keep people awake at night prior to surgery is everything they're worrying about, including that they will get depressed because of pain and anxiety. While their concerns are mostly unfounded, they are scary enough to discourage some people from proceeding with surgery. Fortunately, the reality is very different. When these patients return for their six-week post-op visit, rather than hearing complaints about pain, I hear pride and enthusiasm about feeling so much better than they felt before surgery. They don't express anxiety; they express gratitude.
Many people get depressed before their surgery because their arthritic knee or hip is limiting their ability to be active. Many become depressed because they've withdrawn from activities that require walking and are feeling isolated. Often this is one of the main motivators to proceed with surgery.
After surgery, I typically see patients looking more vibrant and smiling because they are out of pain and again more fully engaging with life. This is one of the greatest joys for me. Rather than expressions of fear and anxiety after surgery, this is what I hear from my patients: All my pain is gone and I feel great! I took almost no pain pills, got rid of my walker in a few days and never used a cane! Exercising in the pool really helped! Everyone at Holy Cross and in your office was so kind and helpful! My only regret is that I waited so long! Thank you!
I think the greatest compliment of all is when they give me a hug at their six-week post-operative visit and I tell them to follow up if they have any concerns. They then invariably tell me about a friend or family member suffering from hip or knee pain whom they will urge to see me. There's no greater compliment for me.
William A. Leone, MD, FACS, one of the nation's top orthopedic surgeons, has operated on thousands of people from all over the world with hip and knee conditions. He takes pride in solving even the most complex hip and knee problems and is gratified by the profoundly positive effect the surgeries he has performed have had on the lives of so many patients.
The Leone Center for Orthopedic Care at Holy Cross Health is located at 1000 NE 56th Street in Fort Lauderdale. For more information or to schedule a consultation, please call 954-489-4575 or visit holycrossleonecenter.com.