Cómo el Pickleball puede afectar sus articulaciones
El Dr. Leone comparte lo que su práctica ortopédica está observando en el deporte de más rápido crecimiento en los Estados Unidos.
Pickleball, el deporte de más rápido crecimiento en los Estados Unidos, es una mezcla de tenis, ping-pong y bádminton. La versatilidad del deporte permite a los participantes jugar adentro o al aire libre, ya sea con un solo jugador o con dos jugadores en ambos lados de la red usando paletas para golpear la pelota de un lado a otro.
Se estima que hay unos 4.8 millones de jugadores de pickleball – casi el doble que hace solo cinco años, según la Asociación de la Industria del Deporte y Aptitud Física (Sports and Fitness Industry Association).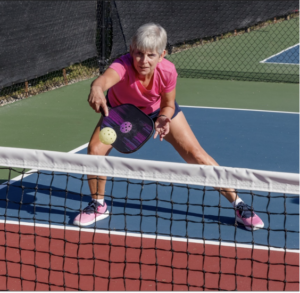 La popularidad del deporte continúa aumentando e incluso ha atraído a la estrella de Los Ángeles Lakers, LeBron James, a comprar un equipo profesional de pickleball con sus colegas y campeones de la NBA Kevin Love de los Cleveland Cavaliers y Draymond Green de los Golden State Warriors. El trío es parte de un grupo propietario de la liga profesional Major League Pickleball, que actualmente tiene 12 equipos de cuatro personas cada uno, pero que planea expandirse a 16 equipos el próximo año.
Pero a medida que el número de jugadores se ha aumentado, también ha subido el número de lesiones. Las lesiones comunes de pickleball incluyen desgarros en los meniscos, tendones rotos y artritis agravada en las rodillas o caderas.
Los estudios enfocados en la medicina de emergencia reportan un aumento persistente en las visitas a las salas de emergencias de personas con lesiones causadas por el pickleball, siendo las más comunes los esguinces, torceduras y fracturas. La edad definitivamente juega un papel, ya que el pickleball es especialmente popular entre los jugadores mayores. Un estudio de Journal of Emergency Medicine encontró que casi un 91 por ciento de todas las lesiones de pickleball ocurrieron en jugadores mayores de 50 años.
"La artritis se refiere a las articulaciones cuyo cartílago hialino, que cubre los extremos de nuestros huesos, se ha roto, provocando inflamación, hinchazón y dolor en las articulaciones. Las articulaciones artríticas son más comunes a medida que envejecemos. Además, a medida que nos hacemos mayores, nuestro cartílago a menudo se vuelve más delgado y frágil, lo cual lo hace más susceptible a las lesiones. Nuestros huesos a menudo no son tan fuertes y nuestros tejidos blandos no son tan flexibles con el envejecimiento, por lo que somos más susceptibles a fracturas, esguinces y distensiones," dijo el Dr. William Leone, M.D. director del Leone Center for Orthopedic Care en Holy Cross Health. "Creo que es maravilloso que tantos de mis pacientes estén jugando y disfrutando el pickleball. Es una actividad social y buen ejercicio. Realmente me encanta cómo las personas con diferentes niveles de habilidad y condición física pueden jugar y divertirse. Les recuerdo a mis pacientes que el pickleball es un deporte y que muchas lesiones se pueden prevenir con ejercicios de estiramiento, equilibrio y fortalecimiento. El objetivo es mantenerse fuerte, ágil y divertirse."
The Leone Center for Orthopedic Care en Holy Cross Health está ubicado en 1000 NE 56th Street en Fort Lauderdale. Para obtener más información o programar una consulta, por favor llame al 954-489-4575 o visite holycrossleonecenter.com.