In a pickle about how Pickleball can affect your joints?                                                 
   Dr. Leone shares what his orthopedic practice is seeing from the fastest-growing sport in America
Pickleball, America's fastest-growing sport, is a cross of tennis, ping pong and badminton. The sport's versatility allows participants to play inside or outside, with either a single player or two players on both sides of the net using paddles to hit the ball back and forth.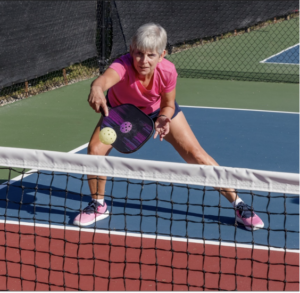 The number of pickleball players is estimated to be 4.8 million — almost double the number from just five years ago, according to the Sports and Fitness Industry Association.
The sport's popularity continues to soar and has even enticed Los Angeles Lakers star, LeBron James, to buy a professional pickleball team, along with fellow NBA champions Kevin Love of the Cleveland Cavaliers and Draymond Green of the Golden State Warriors. The trio is part of an ownership group for Major League Pickleball, which currently has 12 four-person teams, but will be expanding to 16 teams next year.
But as the number of players has risen, so too has the number of injuries. Common pickleball injuries include meniscus tears, ruptured tendons and aggravated arthritis in the knees or hips.
Studies focused on emergency medicine report a persistent increase in ER visits by people with pickleball injuries, the most common being sprains, strains and fractures. Age certainly plays a role, as Pickleball is especially popular among older players. A Journal of Emergency Medicine study found that nearly 91 percent of all pickleball injuries occurred in players over the age of 50.
"Arthritis refers to joints whose hyaline cartilage which covers the ends of our bones has broken down, resulting in joint inflammation, swelling and pain. Arthritic joints are more common as we age. Also as we age, our cartilage often becomes thinner and more fragile, making it more susceptible to injury. Our bones are often not as strong and our soft tissues are not as flexible with aging, so we are more susceptible to fractures, sprains and strains."  said Dr. William Leone, M.D. head of the Leone Center for Orthopedic Care at Holy Cross Health. "I think it is wonderful that so many of my patients are playing and enjoying Pickleball. It is social and good exercise. I really love how folks with varying levels of skill and athleticism can all play and have fun. I remind my patients that Pickleball is a sport and that many injuries can be prevented with stretching, balance and strengthening exercises. The goal is to stay strong, agile and have fun."
The Leone Center for Orthopedic Care at Holy Cross Health is located at 1000 NE 56th Street in Fort Lauderdale. For more information or to schedule a consultation, please call 954-489-4575 or visit holycrossleonecenter.com.