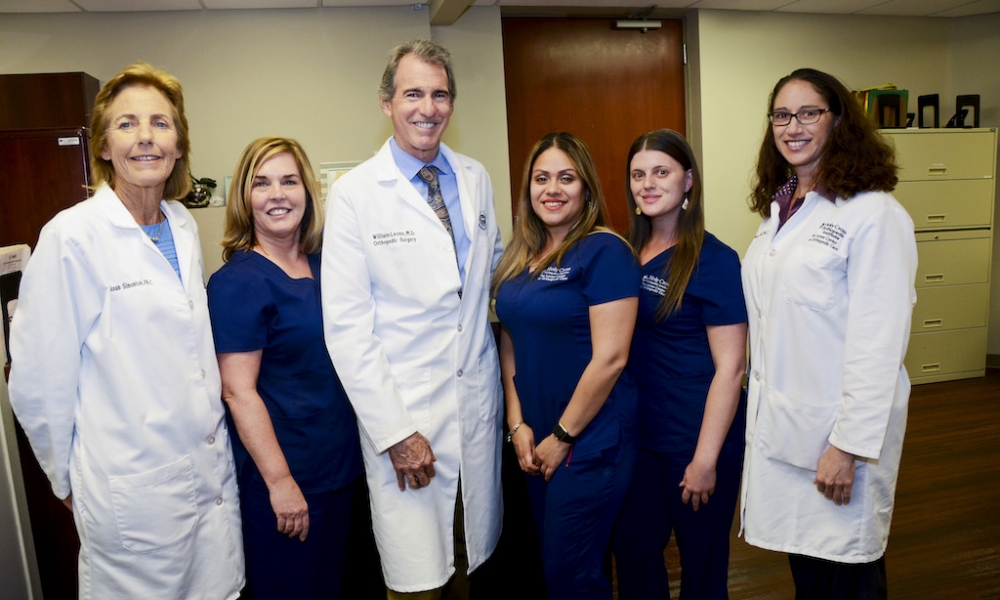 The Leone Center for Orthopedic Care Resumes Office Visits and Scheduling of Surgeries
All patients are once again being seen and fully treated. 
FORT LAUDERDALE, Fla. (March, 2021) William A. Leone, M.D., F.A.C.S., head of The Leone Center for Orthopedic Care at Holy Cross Health, announced his office has resumed regular office hours and is scheduling elective hip and knee surgical procedures.
In accordance with the Centers of Disease Control and Prevention and state guidelines to help prevent the further spread of the coronavirus, The Leone Center for Orthopedic Care had postponed all elective surgeries starting in March.
"Many of my patients are in chronic and debilitating pain and had to have their surgeries cancelled due to the Covid-19 pandemic. There are also a lot of people who had scheduled an appointment with me for an evaluation who have had to wait." said Dr. William Leone, head of The Leone Center for Orthopedic Care. "Fortunately, as the number of those affected with this horrible virus have decreased, and our systems to contain it have improved, we are again returning to full clinic hours and scheduling surgeries with thoughtful and professional extra precautions.
PLEASE HAVE CONFIDENCE:     Pre-operative Precautions: All patients will be tested for the coronavirus prior to surgery. This is for your protection and for others. Everyone needs to have the full confidence that all precautions are being taken to prevent the spread of the virus to protect you and our medical staff while still providing critical care.
Some pre-operative procedures and requirements have been modified recognizing the difficulty many patients may have fulfilling all the pre-operative steps. For example, your usual physician may not be available. My staff and the team at Holy Cross Hospital recognize this and have made accommodations to facilitate the process. My whole team will help every step of the way to get you through this process.
While many patients are once again scheduling appointments to see me for evaluation in my office, some are either not comfortable or live too far away. Video conferencing may be the most practical way for those patients who travel from outside the local area. My staff can help make these arrangements for a video conference and X-rays.
"The wellbeing and safety of our staff and patients has always been my top priority," said Dr. Leone. "We have taken all necessary safety measures to ensure our patients not only receive the finest medical care, we also want them to emotionally feel safe and secure."
The Leone Center for Orthopedic Care provides superb, highly personalized, end-to-end orthopedic care for people with hip and knee conditions. Dr. William Leone offers patients the latest, most-promising innovations in joint replacement surgery, in a compassionate, patient-focused setting. He has performed over 12,000 joint surgeries over the course of his career, restoring mobility and improving quality of life for thousands of patients from all over the world.
During the Covid Pandemic all patients admitted to the hospital will get a private room at no extra charge.
Check out Dr. Leone's Patient Testimonials. These grateful patients make it all worthwhile.
The Leone Center for Orthopedic Care at Holy Cross Health is located at 1000 NE 56th Street in Fort Lauderdale. For more information or to schedule a consultation please call 954-489-4575 or visit holycrossleonecenter.com.
https://holycrossleonecenter.com/wp-content/uploads/2018/12/staff2-copy.jpg
678
1024
Joseph Corsino
https://holycrossleonecenter.com///wp-content/uploads/2017/11/Leone-Center-Logo@2x.png
Joseph Corsino
2020-04-27 14:40:53
2022-03-15 11:04:14
The Leone Center for Orthopedic Care Resumes Office Visits and Scheduling of Surgeries