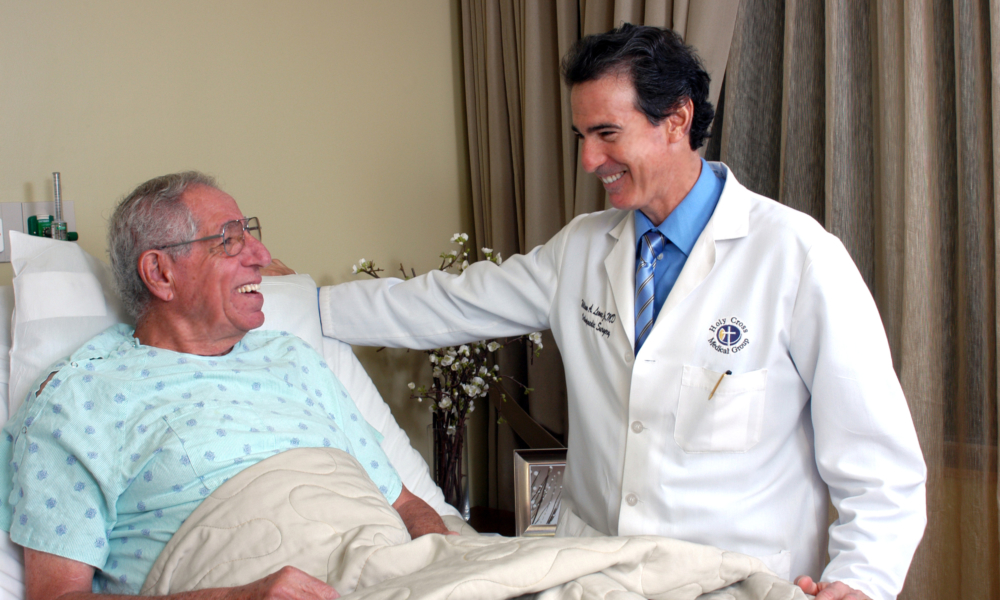 Recent testimonials from former patients who had a total or partial knee replacement
Bart H. Friedman
I wanted to express my deep appreciation for the wonderful care and expertise provided by you and your associates.  Two other surgeons determined I would require a total knee replacement to provide a positive outcome for my bone on bone arthritic knee.  Obviously they were incorrect.  My partial knee replacement feels great 6 weeks post-surgery.  I never needed a walker or cane.  My knee immediately felt aligned and in good working order.  I am still strengthening the leg, but all my muscles are now firing and I'm probably a month away from being as strong as I was pre-surgery.  Based on my progress, I anticipate an as good as new result.  I have been hitting golf balls for 2 weeks without any of the prior knee pain.
Sitting in your waiting room and watching videos of your surgeries and technologies employed was fascinating and very educational.  I learned how new technologies enabled you to know with a pretty high degree of certainty that a replaced joint was properly situated and balanced insuring an optimum outcome.  The first time I felt my knee after the partial replacement, I knew right away that I would have a great outcome.
You and your associates were most attentive and caring throughout the entire process.  I always felt that time was made to address my questions and concerns.  Thank you for treating me conservatively and not performing a total knee replacement because it was a sure thing.  You are a truly outstanding surgeon and I was most fortunate to have met you.
Very truly yours,
Bart H. Friedman
Ford Robinette
You performed a partial knee replacement on me 5 1/2 weeks ago. I am astonished with the results! 5 1/2 weeks after surgery and I'm back on the tennis court. No pain, no problems. I only regret that I did not see you sooner!! You and your entire team are outstanding. I am thrilled with the results!
Ford Robinette
Lindsey Smith
A year ago today we had our first dance in surgery!  I am still so immensely grateful to you and your staff for giving me my life back.  I hope you have all the happiness you give to others. Thank you!
Lindsey Smith
Back On the Slopes and Feeling Great!
I just want you to know that I skied last week with my new knee better than ever! My surgery was 9 months ago & my scare is so small now but most of all I feel great. I don't remember feeling this good for years. I am back better than ever but worked hard in physical therapy for it and grateful to you for restoring my good health. Thank you!
Linda Altshuler
Miriam Bond
After suffering from pain in my left knee for a long period of time I chose Dr. William A. Leone for my surgery.
I had attended a lecture in October given by Dr. Leone at Holy Cross Hospital about knee and hip replacements. I was so impressed by his presentation and his soft spoken manner. He answered questions from members of the audience with great concern. I knew immediately that this was the doctor for my surgery. I called his office and scheduled my appointment. Dr. Leone made me feel at ease. I was filled with fear and trepidation at the prospect of another major operation. He listened attentively to my concerns and took time to answer all my questions. I am so impressed with his genuine interest and concern about me, his patient.
I wanted to schedule an appointment immediately but waited until January, after the holidays. During that 6 week period I took time each day to do the exercises from his preparatory booklet. I wanted to be in the best physical condition I could be for my age (81 years). I also attended the pre-op class given by Holy Cross Hospital and found this to be most informative. It eased some of my concerns about this major surgery and what to expect.
My pre-op physicals showed I was in good health for total knee replacement surgery.
On the day of surgery Dr. Leone saw me in pre-op. His conversation ensured me that "I was in the hands of a great surgeon" and that the outcome would "give me back my life." When I saw him again, the operation was over and I felt good about having had it done.
The next day I was doing 2 sessions of PT and marveling at my straight leg. An Afib episode extended my stay at the hospital. During the four days at Holy Cross I kept waiting for the pain to set in. I never took any of my pain meds because the pain NEVER came. I went through the entire process without a minute of pain.
I thank Dr. Leone, all his pre-surgery preparation, as well as my exercising for being pain free. But most of all I give all the credit to Dr. Leone, MY FANTASTIC SURGEON.
I'm now back in my walking routine and making plans for traveling. "I have my life back."
Thank you,
Miriam Bond
https://holycrossleonecenter.com/wp-content/uploads/2017/07/LeoneHospPatient1.jpg
2000
3008
Joseph Corsino
https://holycrossleonecenter.com///wp-content/uploads/2017/11/Leone-Center-Logo@2x.png
Joseph Corsino
2017-06-05 13:27:06
2018-12-12 16:47:39
Recent testimonials from former patients who had a total or partial knee replacement