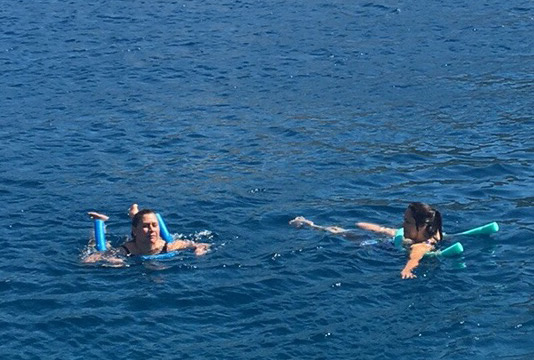 My recovery over the past 2 months has been nothing short of remarkable.
Dear Dr. Leone and Team,
As a 48-year-old healthcare executive, the ability to travel on the fly is the key to my work.  Over the past 10 years, not only did travel become near impossible, but walking across the room was exhausting due to my severe arthritis and limited mobility in my left knee.
Through two colleagues, I was blessed to find my way to you and your caring team for my total knee replacement that happened May 3rd of this year. I've always received such customized care and had EVERY question addressed.  My plan for post-op pain, home health and caregiver services, as well as outpatient rehab were established BEFORE surgery.  Nothing was left to chance and even if I tried to find a reason to be doubtful, there was no room, as you all are such experts in the process of total knee replacement. I was completely at ease the morning I checked into Holy Cross.  I met the team who would support you all in my surgery.  Each individual was warm, professional and made me feel like I was the ONLY patient in the hospital.
After surgery, I went to 4West where Edna Silangil's team of nurses took amazing care of me. Kathy in PT wasted no time as she helped to start bending my knee that had been frozen for 8 years. Before I left to start therapy at home, I had already been walking in the hallways, had practiced getting in and out of a car and had my pain very well under control.
My recovery over the past 2 months has been nothing short of remarkable. I've started riding the stationary bike (a goal 3 months ago), and I've recently returned from a brief Greek island cruise with some friends ( that's me and a friend swimming from our yacht in the Mediterranean Sea. We're planning a more active trip to Europe that was delayed earlier this year because I no longer could walk more than 100 feet without severe pain.
Thanks to all of you at the Leone Center for Orthopedic Care, my life is forever changed as you have given me my life back.  I am unimaginably grateful.
Sincerely,
Kimberly Montes, BSN, RN, MHA, CPHQ, FACHE
https://holycrossleonecenter.com/wp-content/uploads/2017/08/kimberly-montes-small.jpg
360
534
Joseph Corsino
https://holycrossleonecenter.com///wp-content/uploads/2017/11/Leone-Center-Logo@2x.png
Joseph Corsino
2017-08-23 14:40:27
2018-10-09 11:47:41
My recovery over the past 2 months has been nothing short of remarkable.