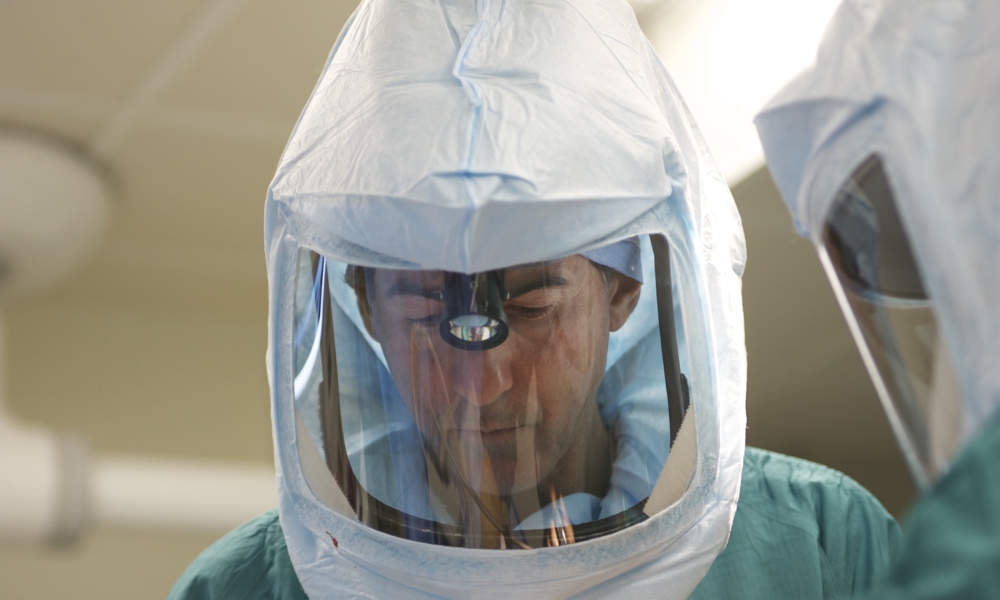 Patient Assured Safety Protocols
Dr. William Leone is an orthopedic surgeon specializing in complex and painful hip and knee issues and is widely recognized for the exceptional level of highly personalized, end-to-end orthopedic care he and his team provide.  Dr. Leone treats patients from around the world who travel to Fort Lauderdale to regain their mobility and quality of life.
At the on-set of the COVID-19 pandemic, both The Leone Center for Orthopedic Care and Holy Cross Health were at the forefront of advocating for enhanced precautions and swiftly implemented all national safety mandates. Now, more than 18 months later and despite the availability of vaccines, the global pandemic continues to disrupt travel and daily life in many ways. With summer infection rates from the delta variant on the rise, Holy Cross Health issued a mandate to its 2,500 employees: Get vaccinated by September 21 or lose your job. This bold directive was designed to  protect the health of our patients, our staff and the community and at this time, is the only hospital in Broward County to do this.
Some patients are reluctant to undergo hip or knee surgery at this time and will either delay or cancel a scheduled surgery. They should rest assured that Dr. Leone and his entire staff remain committed to caring for their patients with the highest degree of safety. If they make a decision to delay their surgery because of these concerns, rest assured every effort will be made to reschedule their surgery when circumstances improve and they feel safe. These are difficult and unique times, and everyone's concerns and fears must be fully respected.
"When someone requires surgery, when they are hurting or feel vulnerable because of their hip or knee, and their care cancelled or delayed, it creates a huge emotional and physical toll, not just on them, but also for their family and the ones they love," said Dr. Leone.
The Leone Center for Orthopedic Care adheres to the following enhanced safety precautions:
All CDC guidelines
Patient temperature checks
Mask mandates for everyone
Appointments spaced apart without overlap
Efficient new systems for prescribing pain medications and physical therapy appointments
Rapid next-day testing
Negative pre-surgical COVID test with full medical work-up and clearance prior to surgery
Virtual consultations with Dr. Leone for patients who live out-of-town or prefer not to travel
In-person consultation at The Leone Center for Orthopedic Care, a stand-alone building separate from the hospital
The vast majority of Dr. Leone's patients walk just hours after their surgery and go home later that same day.  Arrangements are made in advance for a physical therapist to continue their therapy in their homes. Sometimes it is appropriate and "best care" for someone to stay one or two nights in the hospital. These individuals are admitted to a special orthopedic floor which is separate from other parts of the hospital and stay in private rooms.
Ultimately, the decision to proceed with surgery is personal and is usually driven by a desire to be out of pain and active again. Prioritizing patient safety above all else is not new to Dr. Leone and his team.  Prior to the pandemic, The Leone Center for Orthopedic Care emphasized the importance of preventing  complications and infections. Dr. Leone and his team are extremely proud of their proven track record and are doing everything in their power to ensure the wellbeing of every patient and their family members.
The Leone Center for Orthopedic Care at Holy Cross Hospital is located at 1000 NE 56th Street in Fort Lauderdale. For more information or to schedule a consultation please call 954-489-4575 or visit holycrossleonecenter.com
https://holycrossleonecenter.com/wp-content/uploads/2012/04/Leone-in-surgical-hood.jpg
2336
3504
Joseph Corsino
https://holycrossleonecenter.com///wp-content/uploads/2017/11/Leone-Center-Logo@2x.png
Joseph Corsino
2021-08-13 12:24:05
2022-03-15 10:43:55
Patient Assured Safety Protocols