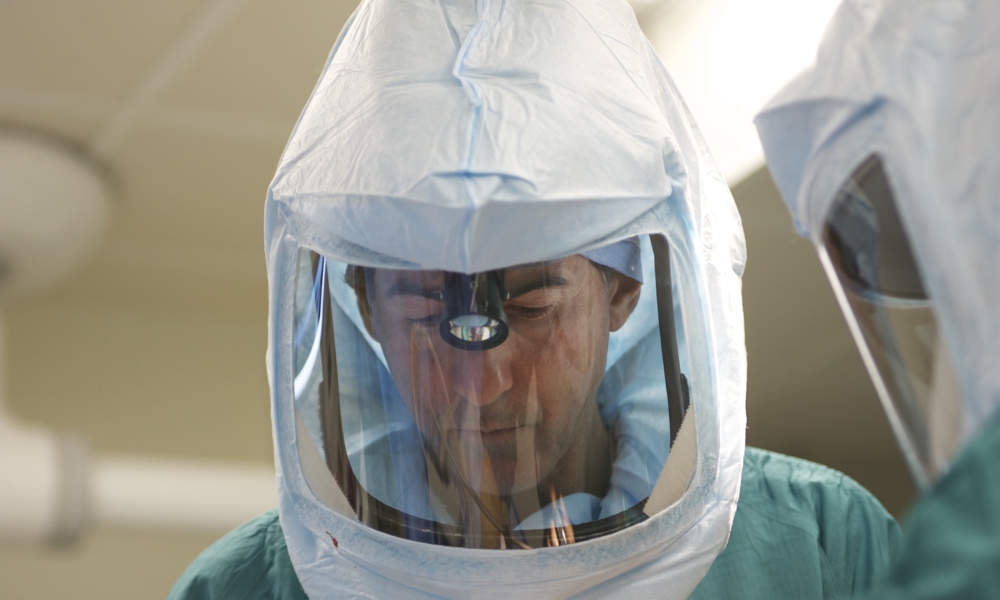 Se Aseguran los Niveles más Altos en Protocolos de Seguridad Para los Pacientes de Cirugía de Cadera y Rodilla del Dr. Leone
El Dr. William Leone es un cirujano ortopédico que se especializa en problemas complejos y dolorosos de cadera y rodilla y es ampliamente reconocido por el excepcional nivel de atención ortopédica altamente personalizada e integral, que él y su equipo brindan. El Dr. Leone trata a pacientes de todo el mundo que viajan a Fort Lauderdale para recuperar su movilidad y calidad de vida.
Al inicio de la pandemia de COVID-19, tanto The Leone Center for Orthopedic Care, como Holy Cross Health estuvieron a la vanguardia de proponer niveles extra de precaución e implementaron rápidamente todos los mandatos de seguridad recomendados a nivel nacional. Ahora, más de 18 meses después y a pesar de la disponibilidad de vacunas, la pandemia mundial continúa interrumpiendo viajes y la vida cotidiana de las personas en muchas maneras. Con los índices de infección de la variante Delta en aumento este verano, Holy Cross Health emitió un mandato para sus 2,500 empleados: vacunarse antes del 21 de septiembre o perder su trabajo. Esta audaz directiva tiene como objetivo proteger la salud de nuestros pacientes, empleados y la comunidad. Hasta el momento, es el único hospital en el condado de Broward que lo hace.
Algunos pacientes son reacios a someterse a una cirugía de cadera o rodilla en este momento y retrasarán o cancelarán una cirugía programada. El Dr. Leone y todo su equipo siguen comprometidos al cuidado de sus pacientes con el mayor nivel de seguridad posible. Si los pacientes toman la decisión de retrasar su cirugía debido a estas preocupaciones, tendrán la seguridad que se harán todos los esfuerzos posibles para reprogramar su cirugía cuando las circunstancias mejoren y se sientan seguros. Ya que estos son tiempos difíciles y únicos, las preocupaciones y temores de todos deben respetarse plenamente.
"Cuando los pacientes requieren cirugía, sienten dolor o se sienten vulnerables debido a su cadera o rodilla y su atención es cancelada o demorada, esto crea un gran estrago emocional y físico, no solo en ellos, sino también en su familia y seres queridos," dijo el Dr. Leone.
The Leone Center for Orthopedic Care se adhiere a las siguientes precauciones extras de seguridad:
Todas las pautas de CDC (Centros de Control y Prevención de Enfermedades)
Controles de temperatura del paciente
Órdenes obligatorias de usar mascarilla para todos
Programación de citas espaciadas, para no generar cruces innecesarios entre pacientes
Nuevos y eficientes sistemas para recetar analgésicos y citas de fisioterapia
Prueba rápida con resultados al día siguiente
Prueba de COVID pre-quirúrgica negativa con evaluación médica completa y aprobación antes de la cirugía
Consultas virtuales con el Dr. Leone para pacientes que viven fuera de la ciudad o prefieren no viajar
Consulta en persona en The Leone Center for Orthopedic Care, un edificio independiente separado del hospital
La gran mayoría de los pacientes del Dr. Leone caminan a las pocas horas después de la cirugía y regresan a casa más tarde ese mismo día. Se hacen planes con anticipación para que un fisioterapeuta continúe la terapia de los pacientes en sus hogares. A veces es apropiado y recomendable que el paciente se quede una o dos noches en el hospital para monitorear su recuperación. Estas personas son admitidas en un piso ortopédico especial que está separado de otras partes del hospital y permanecen en habitaciones privadas.
En última instancia, la decisión de proceder con la cirugía es personal y, por lo general, está impulsada por el deseo de no sentir dolor y volver a estar activo. Dar prioridad a la seguridad del paciente por encima de todo no es algo nuevo para el Dr. Leone y su equipo. Antes de la pandemia, The Leone Center for Orthopedic Care enfatizó la importancia de prevenir complicaciones e infecciones. El Dr. Leone y su equipo están extremadamente orgullosos de su impecable trayectoria y están haciendo todo lo posible para garantizar el bienestar de cada paciente y sus familiares.
The Leone Center for Orthopedic Care en Holy Cross Hospital está ubicado en 1000 NE 56th Street en Fort Lauderdale. Para mayor información, o para agendar una consulta, por favor llame al 954-489-4575 o visite holycrossleonecenter.com.
https://holycrossleonecenter.com/wp-content/uploads/2012/04/Leone-in-surgical-hood.jpg
2336
3504
Joseph Corsino
https://holycrossleonecenter.com///wp-content/uploads/2017/11/Leone-Center-Logo@2x.png
Joseph Corsino
2021-08-24 12:27:38
2022-02-18 15:43:19
Se Aseguran los Niveles más Altos en Protocolos de Seguridad Para los Pacientes de Cirugía de Cadera y Rodilla del Dr. Leone