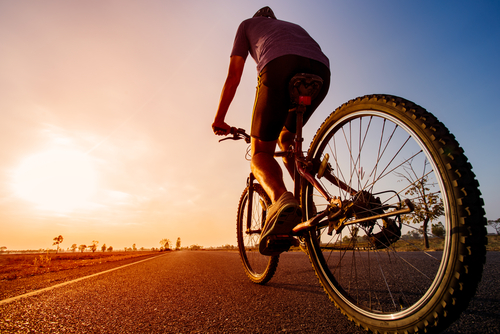 Guest Blog: "My Experience with Total Knee Surgery," by Edward Stupi
At the Leone Center for Orthopedic Care, we firmly believe that patients who have the most information possible about what to expect before and after surgery not only have a better experience but a quicker recovery. From the first visit to our office to the pre-operative class, we want you to know what will happen every step of the way and the very important part you play from performing pre-operative exercises to maintaining a healthy diet. I also find that my patients benefit from speaking with or hearing about other patients' experiences.
For this blog post, I would like to share with you a letter I received from my patient Edward Stupi.
I am a 60 year old male with a long history of knee problems in both knees.  I was advised to replace my knees in 2005.  Being stubborn, I lived with the pain until the summer of 2013.  I was on vacation with friends who left me behind on walks and adventures because I could not keep pace with them. I was missing out on the best years of my life with people I cared about.  I decided to do something about it.  I wanted my life back!
I visited a few doctors who turned me away, as both knees were bad, and I am overweight.  A co-worker told me about his wonderful experience with Dr. Leone.  I visited his website, became educated and I made an appointment in September, 2013.
Dr. Leone did not hesitate to treat me.  He explained why having both knees replaced simultaneously was not recommended, as I live alone, so we focused on the worst of the two, my right knee, which is my driving leg.
Dr. Leone explained this was a partnership, and that I had to do my part, by doing the pre-op exercises and trying to lose weight.  He told me I would get my life back and be free of knee pain.  Dr. Leone told me I would be driving two to three weeks after surgery.  I didn't think that was possible, but I trusted him.  We scheduled the surgery for February, 2014.
His staff was professional, courteous and helpful.  They gave me an information packet which displayed the exercises, explained what would happen, advised me on medications, directed me to YouTube videos which visually showed the process and advised me to take the pre-surgery class at Holy Cross Hospital.  I started the leg strengthening exercises six weeks before the surgery, tried to watch my diet and followed the advice in the booklet.
The surgery was a challenge for Dr. Leone and his assistant, as my weight and years of poor knee health had taken their toll.  The surgery went well and I woke up in the recovery room.  I did not suffer any pain, as the nursing staff was very attentive to my pain level, and gave relief when needed.
I was moved to a room on the orthopedic floor of the hospital.  I could not have received better care.  The nurses and staff came immediately when I dialed their number.  They made sure I was comfortable, clean, and not suffering at any time.
I began physical therapy the next day.  I was walking with the assistance of a walker!  The six weeks of preparation had paid off.  My recovery was going so well, my plan to stay in a rehabilitation center was not needed, nor was in home health care.  I went directly to outpatient physical therapy.
My physical therapist was extremely skilled and experienced in total knee replacement therapy.  I am strong willed, and I was determined to begin driving.  I worked hard at physical therapy, and in two and one half weeks, I was driving again, although getting in and out of my mid-size SUV took a little time.  Dr. Leone was right!
I continued my physical therapy three times a week, but I did, and continue to do so, the exercises recommended by Dr. Leone and the therapist, on a daily basis.  I was only on narcotic medication a few days, then went on anti-inflammatory over-the-counter pain relievers.  By the fifth week after surgery, I was completely off all medications.
I returned to work with no mobility problems.  I am walking, riding a bike and enjoying life.  Dr. Leone gave me my life back!
Nothing in life comes without effort.  You have to do the exercises, become educated, and trust in the abilities of Dr. Leone and his team.  It was a struggle sometimes, but the outcome was worth it for me.  I may have been an exception by healing so well and so early, but I am truly grateful and feel blessed. I am looking forward to another successful surgery in September, 2014 when I will get total knee replacement of my left knee.  How remarkable is that!
Edward Stupi, Oakland Park, Florida
We thank you for your readership. If you would like a personal consultation, please contact our office at 954-489-4575 or by email at LeoneCenter@Holy-cross.com.
https://holycrossleonecenter.com/wp-content/uploads/2014/04/riding-a-bike.jpg
334
500
Joseph Corsino
https://holycrossleonecenter.com///wp-content/uploads/2017/11/Leone-Center-Logo@2x.png
Joseph Corsino
2014-04-08 10:34:00
2019-10-19 09:19:13
Guest Blog: "My Experience with Total Knee Surgery," by Edward Stupi