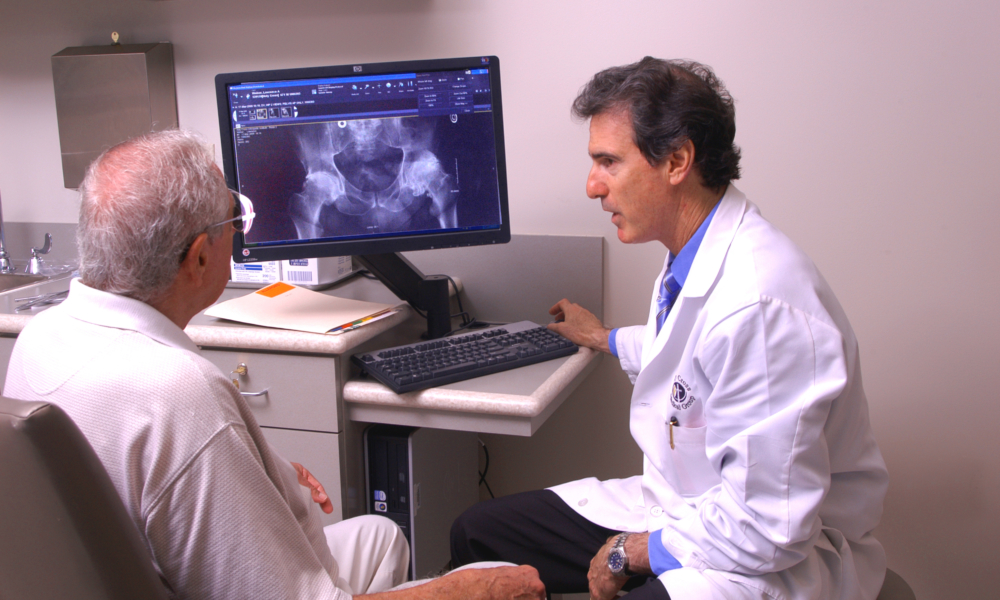 Why Joint Replacement Patients Are Getting Well So Much Faster Today
At The Leone Center for Orthopedic Care at Holy Cross Hospital, we see and treat people who have developed problems associated with their hips or knees. People often come to see me after struggling with these issues for months or even years, and after having been to other doctors in search of answers. Also, most have had an initial assessment and have tried conservative or even surgical treatments but still feel frustrated and disabled.
In this blog post, I will refer readers back to several previous blogs for more in-depth information as I give an overview describing what's changed and how our current-day practices are resulting in faster recoveries and enabling patients to return to full and very active lifestyles. In fact, there has been a sea of change from when I first started my practice 26 years ago.
Most first-time hip and knee replacement patients walk the day of surgery, go home the day after surgery, shed walkers and canes within days, shower after discharge, exercise in a pool at two weeks and return to work and normal activities as quickly as they desire. I attribute this wonderful transformation to multiple factors that add up to better care, less complications and for a "better, easier experience."
Improved Prosthetics
Hip and knee implants, particularly their bearing surfaces, have improved and the latest collected data indicates that they will last longer. Subtle refinement in their shape has resulted in more accurate restoration of kinematics particularly in the knee, and more consistent bone in-growth and stability in the hip. One implant in particular, the Exeter hip stem, has truly stood the test of time. It remains a worldwide gold standard for its proven track record and remains one of the most commonly implanted stems in the world. Fortunately, the Exeter also evolved with the times, offering even more stems in varying sizes, which makes it easier to recreate a person's unique anatomy and mechanics.
Improved wear characteristics of the plastics used for hip replacements have lessened the chance of post-operative hip dislocation by allowing surgeons to implant much thinner plastic hip liners, yet still feel confident about their strength and durability. With thinner liners, we can use bigger balls which are inherently more stable and more resistant to dislocation. Also, the development of dual-mobility bearings that move in two planes further improves stability and lessens the chance of dislocation.
Your surgeon now has better options for choosing a prosthetic that best suits your diagnosis, anatomy, bone quality and ultimate recovery goals.
New Surgical Techniques and Technologies
Surgical techniques continue to be refined and modified. For instance, the method that I use now to repair the hip soft tissues, including the hip joint capsule, is so much more robust that dislocation after a primary THR is a very rare occurrence. Today, exposure when performing a knee replacement results in less injury to the quadriceps muscle group and less overall soft tissue release resulting in faster return of function.
Developing parallel to surgical technique modifications has been a redesign of surgical instruments to enable a minimally invasive approach, which allows for a smaller incision and less soft-tissue dissection and exposure.
The adoption of robotics, computers and sophisticated sensors also has fostered the trend of faster patient recovery and returning to full activity. Holy Cross Hospital was the first hospital in the world to obtain the MAKO Rio, which is a robot that facilitates the most precise implantation of hip and knee replacement components. It has proven to be a game changer for balancing and aligning a partial knee replacement.  From its inception, we have been closely involved with the development.
I now use two different computer systems to perform total knee replacement. One helps to accomplish precise tibial and femoral bone resection, within one degree and one millimeter of precision to recreate a mechanical axis, optimizing the procedure for each individual patient. A second computer system uses pressure sensors to help guide soft tissue balance and improve the components' relationship to each other with quantifiable data.
I invented the PAL or pelvic alignment level, designed specifically for hip replacement surgery. The PAL allows for greater implant precision by measuring pelvic movement during the procedure and then facilitating a correction. It also allows for direct cup position measure after implantation. And, very importantly, I am able to measure my patient's leg length before and after total hip replacement reconstruction to see if the leg length has changed and if the changes are optimal and desirable.
By using technologies and tools that improve the accuracy and consistency, we simply do a better job. Despite all of these changes, I still cannot emphasize enough the importance of gentle, respectful soft tissue handling and accuracy. In my experience, this directly translates to less pain, less bleeding and a faster recovery and better overall result.
Staying ahead of the Pain Curve
At the Leone Center, we have found that post-operative pain is one of the most prevalent anxieties that patients have prior to undergoing hip or knee replacement surgery. Allaying that concern, by outlining what to expect and how pain will be managed, is a major focus at The Leone Center for Orthopedic Care. Avoiding post-surgical pain and complications plays a huge role in why patients go home sooner.
Our strategy is to prevent and preempt pain rather react to pain when it's already set in. We accomplish this with a multimodal pain-management approach which begins before the patient even enters the OR.
Recently, I added a new pain medication called Exparel to the pain-management "cocktail" which I inject into the tissues that support the knee after partial or total knee replacement surgery. Because patients experience so little pain, they walk and start moving their knees just hours after their surgery. This helps to avoid all sorts of complications, gives them a lot of confidence early on, expedites rehab and sets them up to do well. However, I have just updated my pain-management protocol which I explain in my most recent blog. Click here.
Also, narcotics which historically have been used to treat pain now play a much lesser role and are not given intravenously. Narcotics tend to cause nausea, vomiting, confusion and other undesired side effects that can slow recovery. By eliminating their use and by using other, just-as-effective modalities, patients feel better more quickly.
Preparing Patients for Surgery
Pre-operative education (view our informative hip booklet and knee booklet) that will be provided one-on-one by me, by my staff and during patient seminars at Holy Cross Hospital. These pre-operative educational forums provide an opportunity for patients, as well as their families or special friends, to learn and ask questions.
Making sure our patients and their support families are well informed prior to surgery has not only resulted in a better experience but a faster recovery because they know what to expect, have less anxiety and no longer fear the "unknown."
Patients Should Meet the Entire Team
I cannot overemphasize the importance of a great team that works seamlessly together from the first phone call, to getting through the maze of pre-op clearance and insurance, to planning for discharge. At The Leone Center, our whole team nurtures a personal, in-depth relationship with each patient where he or she feels the concern and experiences good old-fashioned medicine combined with the latest, proven technologies. The Holy Cross Hospital orthopedic floor truly is award winning and patients as well as their families feel compassion as they receive the best care.
Because of our highly experienced orthopedics team, patients feel more confident and calm which renders a better experience and a quicker recovery. With optimum care from the entire team, my patients have reported a much improved "experience" and I've observed that they are able to get back to their everyday lives sooner. After being discharged, patients routinely tell me how impressed they were and how many will write special letters of appreciation.
Choose a Surgeon Who Treats You, Not Your X-rays or Scans
Since I am a specialist with a practice limited only to evaluating problems that develop with hips and knees, I've honed special expertise in making a diagnosis and then treating the problem. This includes treating or managing any pre-existing health issues or conditions prior to any procedure.
Due to my experience, I often don't need expensive and time-consuming tests just because they are available, but can make the diagnosis, direct treatment and perform the surgery if necessary with more confidence, less anxiety, and more assured results. Experience cannot be undervalued. While the latest and best imaging is available and used when appropriate, I spend extra time talking with my patients, so I really understand their histories, concerns and limits. I also thoroughly examine my patients, which unfortunately many consider "a lost art."
Preventing Infection
The sterile conditions, under which I perform hip and knee surgeries, include use of laminar flow operating rooms that filter air. My entire surgical team wears body exhaust suits that completely isolate our breathing, etc., from the patient. This, combined with the meticulous handling of tissues and a comprehensive regimen of antibiotics, all but eliminates the risk of postoperative infection.
Giving People Back Their Desired Quality of Life
I'm routinely seeing a widening age spectrum of people, from patients only in their 20s to folks well into their 90s. In both groups, the expectations are similar: to be rid of the pain, the limp and to be able to return to activities for which they have a passion. For younger and many older patients, this may include tennis, dancing, golf, swimming, gardening and much, much more. For many, it's more basic; it's being out of pain, feeling safe and not having to give up their independence.
It's because of all the advancements I've discussed in this blog – from patient care to the latest technologies – as well as what patients have "taught" us – that joint replacement surgery has become such a game changer. It's no longer a last-resort procedure and patients are recovering quickly and well. Today, the medical community is more confident with recommending a return to activities that would not have been sanctioned in the past. Because of the demand of so many younger and older patients who refuse to live with limits or pain, and our experience now in guiding their recovery, the possibilities are endless.
We thank you for your readership. If you would like a personal consultation, please contact our office at 954-489-4575 or by email at LeoneCenter@Holy-cross.com.
https://holycrossleonecenter.com/wp-content/uploads/2018/10/Me-with-male-pt-looking-at-office-monitor-hips.jpg
2000
3008
Joseph Corsino
https://holycrossleonecenter.com///wp-content/uploads/2017/11/Leone-Center-Logo@2x.png
Joseph Corsino
2015-10-15 10:42:58
2022-06-19 15:22:43
Why Joint Replacement Patients Are Getting Well So Much Faster Today