Dear Dr. Leone,
We have a mutual client named Danny. He was recovering from his hip surgery that was very successful and I had great success in progressing him back into his strength and conditioning program as well as increasing his hip/spine mobility. It was soon after his recovery that I started experiencing deep hip joint pain and had exhausted all massage therapy, chiropractic, myofascial release, exercise modification and time off over the course of 1 year. Trying to self-diagnose, I thought it may be a torn labrum so I had an MRI. To my disbelief, my right hip was bone on bone.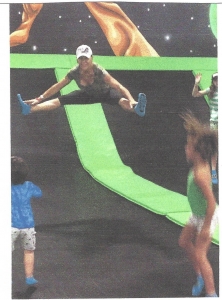 I've been an athlete all my life, from the age of 6 in gymnastics, cheer leading, fitness instructor, personal trainer, and World Class Ms. Fitness Champion. Physical fitness and maintaining a healthy lifestyle is in my DNA.  Now, I was 53 and looking for a hip surgeon. As God would have it, I was training 4 clients that had just received a new hip! All of them wanted me to go their Dr. because "they were the best". Well, our mutual client, Danny, knows who the best is and he is right. My entire experience with your office staff, Nurse Susan, and you was 5 star. Patient, caring, empathetic, reasonable and a wealth of knowledge, experience and professionalism.
Surgery went so well that I was back to personal training my clients in 2 weeks.  My surgery was on 12/14/15 and now almost 4 years later, I am back to full range of motion, strength gains, box jumps and even going to trampoline parks with my 3 grandchildren.  I have since referred 5 people to you and they too are extremely happy with their new hips. We are all living a pain free, healthy, happy and active lifestyle again. Thank you and may God continue to bless you with your gift of healing.
With gratitude,
Andrea Contant, CPT