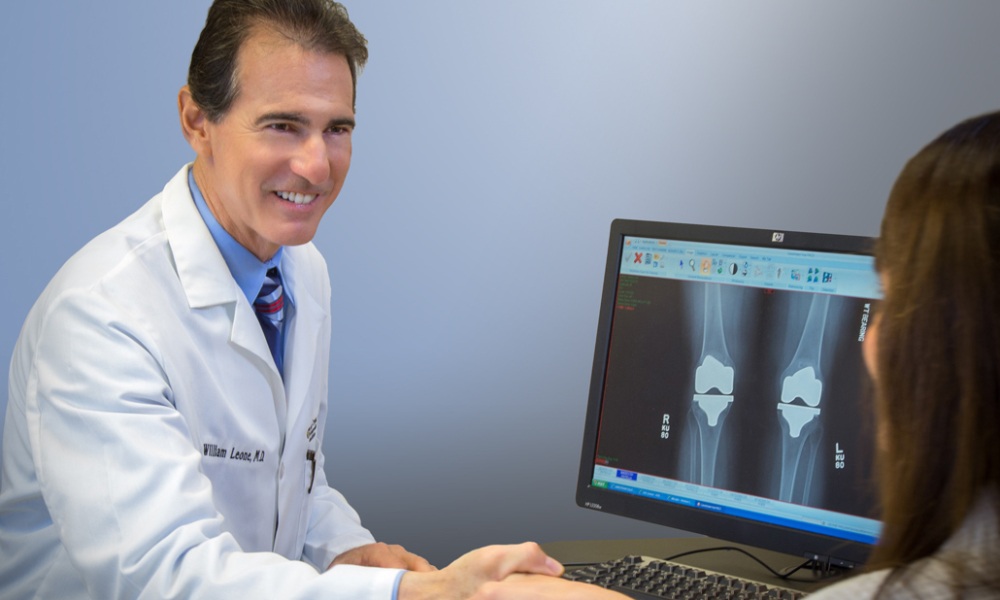 My friend knew of Dr. Leone's reputation and told me I couldn't find a better surgeon.
Dear Dr. Leone,
THANK YOU Dr. Leone, and THANK YOU TO YOUR WONDERFUL TEAM for talking such good care of me!  I am in my eighth week of recovery from bilateral total knee replacement and am very happy with my progress.  Prior to surgery you explained that you would be responsible for 50% of the result and the other 50% was up to me. My 50% would not have been so successful if your first 50% wasn't so outstanding.
My story begins with an explosion. During my service to this country, I was "hit by a wall" during an explosion while in a war zone. I survived but sustained permanent injury to both knees. With time I developed arthritis with "windswept" deformities. The right knee leaned inward and the left knee leaned outward, causing both knees to lean to the left, the right more than 18 degrees. I've always been an athlete and I pushed myself.  After completing my years of service, I became a tennis professional and played many tournaments, exhibitions and taught many hours of lessons.  Because of my knees, I progressively required pain reducers, knee braces etc., and suffered constant discomfort. I recall playing a tournament this past May and the following day being unable to walk, let alone continue to play. Our family Orthopedic Surgeon told me I needed knee replacements and referred me to Dr. William Leone at Holy Cross Hospital.
I researched you and The Leone Center for Orthopedic Care and consulted with a lifelong friend who has been associated with knee replacements professionally for over 20 years.  My friend knew all about your reputation and the reputation of Holy Cross Hospital and told me "I couldn't find a better surgeon".
When I called, your office staff greeted me warmly and I was able to see you the following week.  This is the way I like to get things done. During my appointment, we talked, your examined both me knees and then reviewed the X-rays. You told me I needed both knees replaced. Next, your nurse Barbara O'Brien, R.N. came into the room and organized what needed to be done and helped me through the whole process.
The operation took place June 30, 2010, at Holy Cross Hospital. Everything went flawlessly.  I very much appreciated the daily visits by you, Barbara and your P. A., Susan Simonton. The in-patient Intensive Rehab at Holy Cross was superb. I began riding my bike 4 weeks after surgery and at five weeks, I started hitting tennis balls with my wife Elizabeth, who is also a tennis Pro. Each day my legs feel stronger and I do more and more.
Thank you and your team Dr. Leone for getting me back in the game!
Respectfully,
Dru Ackert, USPTA, PTR
https://holycrossleonecenter.com/wp-content/uploads/2018/05/Leone-shakehand-1030x669.jpg
669
1030
Joseph Corsino
https://holycrossleonecenter.com///wp-content/uploads/2017/11/Leone-Center-Logo@2x.png
Joseph Corsino
2010-08-18 14:35:52
2018-12-10 12:56:05
My friend knew of Dr. Leone's reputation and told me I couldn't find a better surgeon.