Dear Dr. Leone,
I am taking this opportunity to thank you for your wonderful care during my knee and right hip replacements over the last year and a half.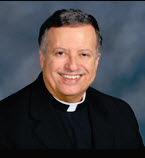 I am sure that you have heard it from many patients, but your bedside manners are the 'best', as well as the professionalism with which you lead your team: Susan, Tammy and the entire surgical 'gang'.  Their patience, presence and support alleviated my pain more than the medication or the ice packs.  Their care and attention to my questions and concerns are to be commended.
I see no reason why anyone in need of your services should be scared or hesitant in undergoing orthopedic surgery.  While not 'the easiest walk in the park,' in your hands each surgery seems to be a delicate unraveling of thorns from thorn bushes for the sake of a better quality of life.
I will continue to pray for you and for your team.  May God bless you always!
Sincerely yours,
Rev. Juan J. Sosa
Pastor