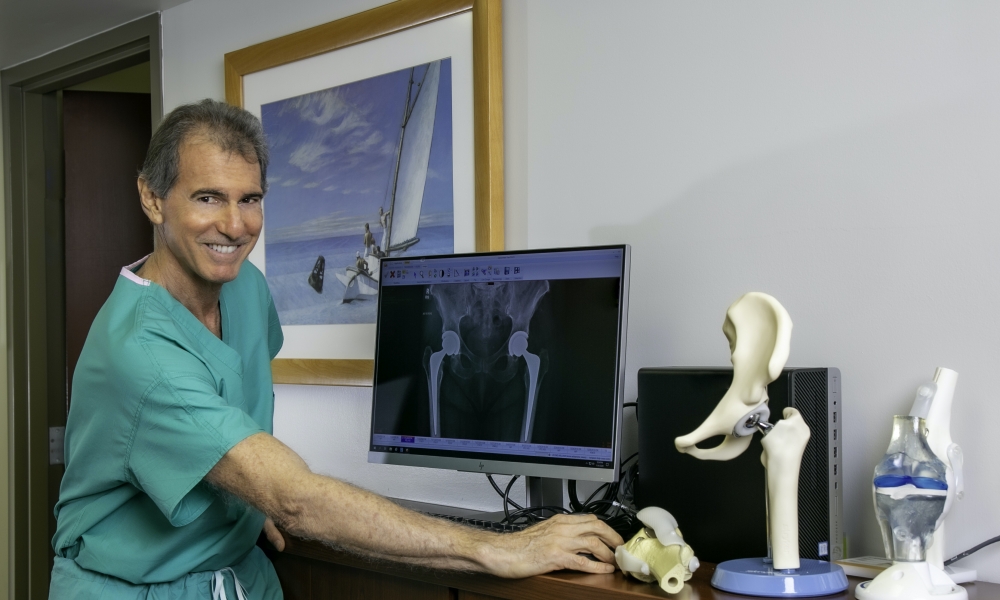 Following my double hip surgery, I'm back to a pain free active life.
Dear Dr. Leone,
I have always enjoyed amusement parks. As a child, I was able to ride the historic Hershey roller coaster 16 times in a row. When my son was in school I would take a day off from work every summer so the two of us could spend the day at Sea Breeze Park. We were at the gates before they opened and ushered out as the doors were closing. More than once I told Mike, "we have time for one more run down the water slide".  I remember thinking at the time that I also wanted to enjoy that same joy with my grandchildren.   During a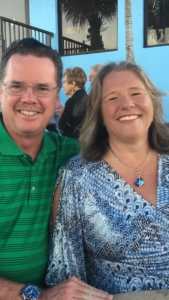 trip to Disney World, I was the one pushing my husband and two sons to stay at the park until it closed. I gave in and agreed to leave at the end of the electric parade!  I enjoyed an adventurous life overall. I was a lifeguard, swimming instructor, Assistant NAUI Diving Instructor, Safety & Research Qualified Diver, Hyperbaric Chamber Operator & Tender, boater, skier and energetic person.
That all changed as I had more and more movement issues. My first big sign was during yoga. I could still swim over a mile at the time, but I could not sit crossed legged on the floor without two pillows. As a child, I often did the lotus position in the pool along with synchronized swimming skills. Hip stiffness began in my 20's and advanced to bone spurs in my 30's. By my 50's I was a different person all together. I had given up skiing, could barely get out of a kayak, and walked as little as possible. I was in pain most of the time. Every step lead to more discomfort and I passed up many walks with my family. When my granddaughter was born I was afraid that I would never enjoy a day at an amusement park with her. At the time I thought the only way that could take place was with me in a scooter chair!
I have never been a quitter!  I had previously helped my mother through two difficult hip replacements; my father through one; and my mother-in-law through double knee replacement. I knew there was an option, but life always seemed to get in the way and delay my surgery. The last major delay included the unexpected death of my father who took care of my invalid mother. I spent almost a year away from home caring for a dying father while also caring for an invalid mother. Thankfully, an LNA who loved my parents was also there with my sons and husband to help me through this long process.  By the end of the year, I had buried my father in a cross country burial avoiding the largest blizzard in MD history, relocated mom, emptied out a home of 40 years, completed Conservatorship for mom, renovated their house, staged it and got it sold. I also had four storage lockers to be sorted and closed. By the end of the year I was in my own health crisis. I had constant pain from bone spurs, a pinched nerve, A Fib, Sleep Apnea, and had been tested for MS.
Once back at home, I concentrated my efforts on my recovery.  I wanted to know as much as possible about the options, top physicians, and best locations for surgery. My home in Vero was the best location for hip recovery, so I centered my search there. My home in New Hampshire has four flights of stairs and was not set up for a recovery. My extensive search led me to Dr. Leone at Holy Cross Hospital. I was familiar with Holy Cross after assisting my mother-in-law with her double knee surgery.
Finding Dr. Leone was one of the best things that has occurred in my life.  From the moment my husband and I met him I knew he would help me. My extensive research led me to him, but once I met him I knew I could relax and just follow his advice. Dr. Leone and his Staff were absolutely wonderful!
I am now well on my way back to a pain free active life. Dr. Leone performed two hip replacements for me during the second half of 2017. My first surgery was in August. I was up walking just hours after a major surgery. My hospital stay was very comfortable and supportive. I can only say good things about the entire staff. My first surgery had a quick recovery and my physical therapists were very happy with my quick progress. I owe that quick recovery to Dr. Leone. Remember I had been the primary care giver to three previous hip replacements. Their recoveries were not nearly as fast or successful. Even my friend who was young and active had a much longer and more difficult recovery. I know things would have been different had she used Dr. Leone.
My second hip replacement was even easier than my first!  Often patients dread starting a surgery process, but I was excited and ready to go. My family and friends were very supportive with my recoveries. My favorite part was that I was doing so well I needed little physical help even during the first days. We were able to get out and about from the early days. Just leaving the hospital I had a two-hour drive home. I did very well and never had much discomfort.
It has now been four months since my second surgery. I am just so thrilled with how I am doing. I have been able to travel extensively, get back to five miles daily on my exercise bike, and walking without discomfort. I refer to myself as the new Bionic Woman. Best of all, I have so many adventures to look forward to. I am anxiously awaiting trips to amusement parks with my two grandchildren. I am planning a well deserved vacation with my husband, and I am actively addressing a few more health issues. If my other doctor's help me half as much as Dr. Leone I will feel like I am in my 30's again!
I know how much effort goes into becoming a doctor, since I have watched my oldest son take that path.  I always wanted to be a doctor too, but did not have what it took at the time. I think that is why I appreciate caring doctors so much. It is truly a labor of love, dedication, and devotion. I can only say thank you from the bottom of my heart for giving me my life back again!
Thank you so very much,
Donna M. Schinlever
https://holycrossleonecenter.com/wp-content/uploads/2020/12/DEB_7018-scaled.jpg
1681
2560
Joseph Corsino
https://holycrossleonecenter.com///wp-content/uploads/2017/11/Leone-Center-Logo@2x.png
Joseph Corsino
2018-04-06 10:46:19
2020-12-04 07:54:47
Following my double hip surgery, I'm back to a pain free active life.