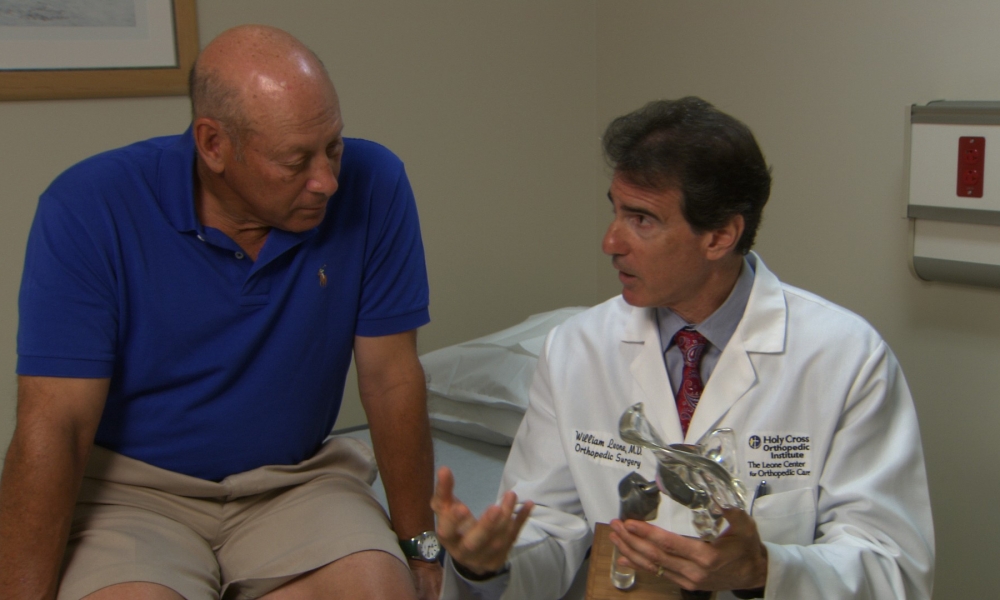 La comunicación es un componente clave de la cirugía de reemplazo de cadera y rodilla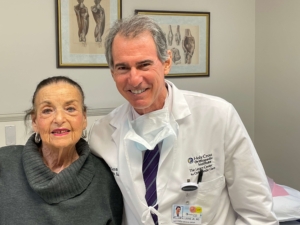 Una cita con un cirujano puede ser una experiencia estresante cuando el paciente siente dolor y tiene problemas de movilidad. Incluso si usted ha investigado y está bien informado, no se sorprenda si olvida algunos de los detalles de su consulta al llegar a casa. Aún si presta mucha atención, es difícil absorber y procesar los detalles cuando se siente vulnerable y su salud está en juego.
No es una exageración afirmar que la comunicación es tan fundamental como las habilidades quirúrgicas para obtener resultados exitosos, ya que tiene un efecto profundo en los resultados de los pacientes y en la satisfacción general con la atención que recibieron.
En The Leone Center for Orthopedic Care, la constante comunicación durante el proceso quirúrgico siempre ha sido una prioridad y es más importante que nunca en el entorno de la atención médica actual. Los pacientes se van a casa el mismo día de su cirugía y juegan un papel activo en su recuperación. Ellos esperan y merecen tener amplia información y todas las indicaciones relacionadas a sus cuidados. Y aunque pueda parecer que el Internet, el correo electrónico, las teleconferencias y todas las maravillas de la tecnología moderna deberían facilitar la comunicación entre médicos, pacientes y sus familias, no es necesariamente el caso. La comunicación exitosa no es necesariamente una función de la tecnología. Más bien, es el compromiso de ver la experiencia quirúrgica a través de los ojos del paciente y contar con los protocolos de comunicación y los recursos de información correctos.
 Nuestra página web es nuestra "base" de comunicaciones.  
Además de mis habilidades quirúrgicas, creo que nuestro ambiente de atención y el compromiso de comunicarnos con usted y sus cuidadores distinguen a The Leone Center for Orthopedic Care de otros especialistas de reemplazo de cadera y rodilla. En nuestra página web, usted y su familia encontrarán una gran cantidad de información sobre nuestra experiencia en cirugía de reemplazo de cadera y rodilla, incluyendo casos complejos, junto con una amplia cantidad de blogs que he escrito, videos, testimonios de pacientes, folletos para descargar y mucha información útil acerca de cómo opera nuestra oficina. Sabemos que seleccionar un cirujano es una decisión importante y queremos que tenga la mayor cantidad de información posible a su alcance para tomar una decisión informada.
Por qué somos considerados una "práctica de conserjería."
Nos referimos a nosotros mismos como una "práctica de conserjería" debido al extraordinario nivel de atención personalizada que brindamos. La comunicación empieza con su primera llamada a nuestra oficina. Su llamada será atendida por una persona real, no una respuesta automatizada o un centro de llamadas remoto con un tiempo de espera prolongado. Un amable miembro de nuestro equipo aquí en nuestra oficina responderá a sus preguntas, programará su cita y lo reconocerá por su nombre a partir de ese momento.
Cuando llegue a nuestra oficina, no entrará a una sala de espera repleta de personas que llegaron antes que usted, ya que hacemos todo lo posible para espaciar las citas con tiempos mínimos de espera. Le ofreceremos una bebida y le daremos un folleto con información de nuestra práctica, disponible en inglés y español. Los amables miembros del equipo que conocerá ese día son las mismas personas que se enfocarán en hacer que cada parte de su experiencia con nuestra práctica sea fluida y sin preocupaciones.
Escuchar a nuestros pacientes y respetar y responder a sus inquietudes es un sello distintivo de nuestra práctica. Eso incluye todas las instancias del proceso quirúrgico, como conocer claramente sus síntomas y expectativas; asegurarse de que su familia y cuidadores tengan la información y las instrucciones que necesitan para participar en su recuperación en casa o en un centro de rehabilitación; y toda la gestión administrativa desde la programación hasta el alta y el seguimiento. Mi personal de apoyo comparte mi compromiso de abordar estas y otras inquietudes de los pacientes de manera rápida, cordial y eficiente, sea la pregunta clínica o administrativa.
La comunicación efectiva es esencial para cualquier negocio exitoso, pero mucho más en la industria del cuidado de la salud, donde las fallas en la comunicación pueden afectar negativamente su experiencia y los resultados de manera grave. ¿Se puede ser buen cirujano y mal comunicador? Quizá. Pero en mi opinión, cada aspecto de mi práctica depende de una comunicación clara y consistente y no lo haría de otra manera.
Le agradecemos por su lectoría. Si desea una consulta personal, comuníquese con nuestra oficina al 954-489-4584 o por correo electrónico a LeoneCenter@Holy-cross.com.
https://holycrossleonecenter.com/wp-content/uploads/2019/04/2nd-opinion-.jpg
1080
1920
Joseph Corsino
https://holycrossleonecenter.com///wp-content/uploads/2017/11/Leone-Center-Logo@2x.png
Joseph Corsino
2022-01-14 14:22:22
2022-02-18 15:18:42
La comunicación es un componente clave de la cirugía de reemplazo de cadera y rodilla