If a Hip or Knee Replacement is In Your Future, It's Time to Start Asking Questions.
When I meet new patients, some seem afraid to ask questions for fear of seeming foolish, while others question everything. From my perspective, every question a patient asks me or my team opens a door to new information that may be relevant to the patient's health and well-being. So, if a hip or knee replacement is in your foreseeable future, it's time to start asking questions.
Here at the Leone Center for Orthopedic Care at Holy Cross Health, 30 years of experience has shown us time and again that well-informed patients are those most likely to be happy both with their experience and their result.
The spectrum of questions we hear ranges from How can I be sure I need this surgery? to Will I set off the security mechanism in the airport?  and everything in-between. Will I be pain-free afterwards? Does the operation hurt? How long will I be under anesthesia? What does the device look like? How long is the recovery time? How soon will I be able to walk, drive, have sex, shower, play tennis, dance and return to the active lifestyle I used to enjoy so much? How long will I need physical therapy? and so on.
In preparation for our initial consultation with you, we invite you to visit our website, which is a treasure trove of important information. On the home page you will find the Patient Resources tab, featuring separate patient booklets for hip and knee surgery, written in both English and Spanish and easy to print. In the Hip & Knee Surgery section, we provide detailed information on both conditions including our philosophy and the surgical procedures. The What to Expect section covers Preparing for Surgery, Pain Management, Physical Activity Timeline and Best Practices. And if you'd like to hear what our patients say about us, please take the time to view the testimonials, which I think you will find reassuring and even entertaining.
I understand that being told you need a hip or knee replacement can engulf you in a whirlwind of questions and make you feel as though you have no control over your destiny. The good news, however, is that getting the answers can build your confidence as an enlightened advocate for your own health care.
I encourage you to keep a running list of every question that pops into your head and call my office if you can't find an answer on our website. And by the way, when you call our office, a member of our team — not an automated recording — will answer and get you the information you need.
From my perspective as a surgeon specializing in hip and knee replacement, including complex cases, the most important question I ask my patients is How do you feel? Their answers speak volumes and are the most gratifying part of the work I do, particularly when a patient who has been suffering from pain for years says, "You've given me back my life."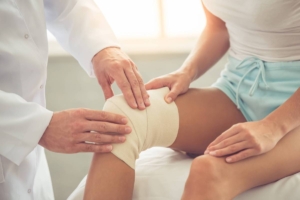 Here's a small snapshot of frequently asked questions, with answers drawn from actual patient testimonials.
Am I too old for a hip or knee replacement?
A. It's rarely too late! I routinely help people in their 80s or 90s by replacing their hips or knees. Their reasons to proceed with surgery vary, although invariably boil down to not wanting to lose their independence, their mobility and to more fully enjoy the rest of their lives. I recently received a wonderful card from my patient who is now 93 and had her knee replacement surgery 3 years ago. She thanked me for "giving her back her life." I also received a fun video clip from my patient who is 85 dancing on a cruise ship with her family just 3 months after her total hip. Wonderful!
Can I resume my vigorous physical activity?
A busy CPA wrote to tell us he was able to renew his love for playing ice hockey after his total hip replacement. Another patient celebrated the anniversary of his partial knee replacement on the ski slopes in The Rockies. Many patients rekindle their love of dancing following total knee or hip replacements and others are back to Spinning and other types of workouts just weeks after hip or knee surgery.
Will I ever be able to travel again?
After her successful hip and knee replacements, a patient sent us a selfie taken while trekking through Europe. Another shared a photo of herself dancing in the streets of Guatemala on New Year's Eve, just a few weeks after knee replacement. A few months after a lateral uni knee replacement, another patient was back to Scuba diving in Northern Abaco. One of my favorites is from an 83-year-old physician who sent me a picture from Antarctica 4 months after his partial knee holding up a sign thanking me. Wow! This is what patients mean when they say, "giving me back my life."
Do you treat patients from other countries?
Many of our patients come to us from around the nation and the world, typically referred to us by trusted friends and medical professionals who know of our practice. A hip replacement patient from Canada came here for surgery, foregoing Canada's socialized medicine system. "What a good decision!" she said of her pain-free hip. Whether they travel here from Mexico City or New Orleans, The Bahamas or Alaska, Canada or Costa Rica, Guatemala or Saint Kitts, patients come to the Leone Center to have their knee and hip replacements done by a team they trust.
Life may be filled with unanswered questions, but when it comes to hip and knee surgery, getting the answers can make a world of difference.
The Leone Center for Orthopedic Care at Holy Cross Health is located at 1000 NE 56th Street in Fort Lauderdale. For more information or to schedule a consultation, please call 954-489-4575 or visit holycrossleonecenter.com.