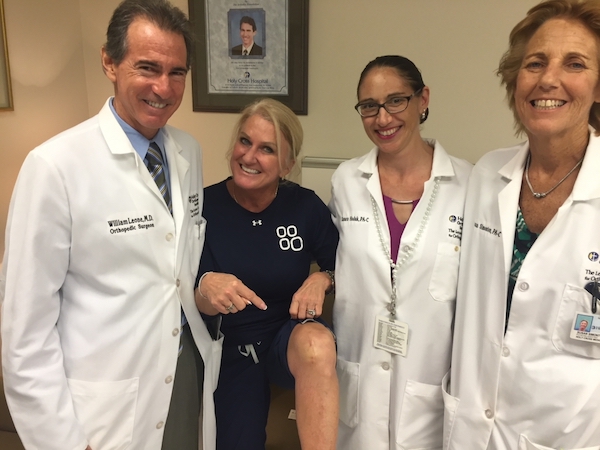 A decade ago, Dr. William A. Leone, head of The Leone Center for Orthopedic Care at Holy Cross Hospital in Fort Lauderdale, made a compassionate and well thought-out decision, transforming the patient care model for his orthopedic practice.
An award-winning orthopedic surgeon, Dr. Leone's vision was to create a destination practice, intentionally reducing the number of cases he would accept and providing a patient-centered model for care. His decision was based on 20 years of clinical practice and common sense: treat patients with respect and compassion at every point of their care. "Treat patients like I would want to be treated or have a member of my family treated."
Fundamentally, a destination practice, sometimes referred to as concierge medicine, is a personal, in-depth relationship where the physician/patient dynamic is as important as the surgery itself.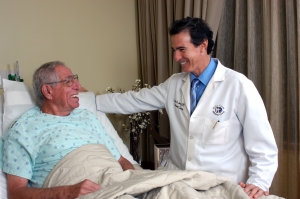 "In my experience, a respected, well-informed patient not only has a faster, smoother recovery but also a better experience, which contributes to a better outcome," said Dr. Leone. "I give all my patients full attention, honoring their time and providing them with the information they need to make well-informed decisions about their own health care."
Our comprehensive approach begins with the initial consultation and continues throughout the entire post-operative period. Patients are guaranteed increased availability with Dr. Leone and his entire staff, are assigned a designated and responsive patient liaison, and are educated about what to expect throughout the entire process. This ensures each patient's entire experience is as positive and comfortable as possible, resulting in successful results and faster recoveries.
This concierge approach has enabled Dr. Leone and his staff to achieve consistently superb results. This unique integration of clinical, surgical and technological expertise combined with caring, personalized attention from the doctor and his entire staff has helped restore mobility and improve the quality of life for thousands of patients.
Dr. Leone has always utilized cutting-edge technology and the latest proven techniques for solving complex hip and knee problems, but his ability to focus individually on each patient is central to his methodology. This heightened level of personalized and attentive care benefits patients both physically and emotionally.
His emphasis on preempting and preventing pain after surgery has been a game changer. Patients usually walk the day of surgery and go home from the hospital soon thereafter. For most, home is where they are happiest and often safer than rehabilitation facilities. I see that patients get well faster when they go home because they do much more for themselves," said Dr. Leone.
Dr. Leone attracts patients from all over the world who travel to Fort Lauderdale for an expert consultation, and if indicated, hip or knee surgery. Many patients elect to have surgery after exhausting all conservative treatments and their quality of life is impacted by pain and progressive inability to remain active and independent.
"My profession is extremely rewarding and I am constantly reminded why I became a doctor," said Dr. Leone. "I am humbled by how transformative and life-changing these surgeries can be. Patients are tremendously grateful, not just for relieving their pain but also for regaining their mobility and their quality of life."
Dr. William A. Leone is head of The Leone Center for Orthopedic Care at Holy Cross Hospital in Fort Lauderdale and has earned a reputation as one of the nation's top orthopedic surgeons specializing is solving complex hip and knee problems. He was recently named a 2020 Top Orthopedic Surgeon by Castle Connolly Medical for the tenth consecutive year.
To hear from our patients visit the testimonial section on the website. For more information, call 954-489-4575 or visit HolyCrossLeoneCenter.com
https://holycrossleonecenter.com/wp-content/uploads/2018/12/6-week-Partial-Knee-Post-Op-Appointment-Cheryl-Duany-1030x773.jpg
450
600
Diana Hanford
https://holycrossleonecenter.com///wp-content/uploads/2017/11/Leone-Center-Logo@2x.png
Diana Hanford
2019-08-13 09:21:51
2020-07-03 11:01:09
At The Leone Center for Orthopedic Care, our concierge approach to personalized care is linked to successful and faster recoveries