Dear Dr. Leone,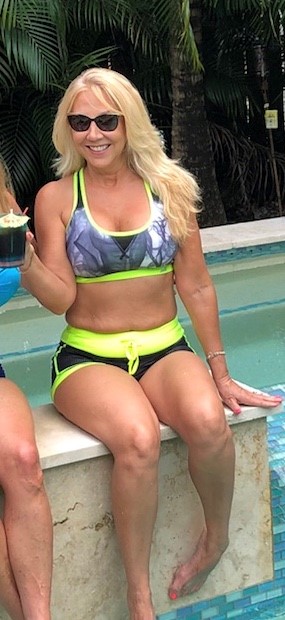 I am compelled to tell my story regarding my hip replacement that you performed on April 8, 2018.  I started having signs of arthritis in my right hip many years ago.  I saw a couple of orthopedics and was told that I have mild arthritis and to have physical therapy and take supplements. I sucked it up for many years and it just got progressively worse. In 2016, I went to another orthopedic surgeon and after taking X-Rays again, he confirmed that the arthritis had gotten a little worse but he thought I was too young to have a hip replacement.  He suggested additional physical therapy and put me on an anti-inflammatory.  I continued seeing him for about a year and decided that at 55 years old, I was getting so limited in my life activities and in more pain that I didn't want to wait anymore.
We tentatively set a date for the surgery, but in the meantime I mentioned to him that I was diagnosed with Osteopenia many years ago and if he thought I should have another bone density test.  He didn't seem too concerned about it but suggested that if I wanted to, to go ahead and have it done, which I did.  On my next follow-up appointment, he looked at the results of the test and said, "Oh no, I can't do your hip replacement surgery!"  When I asked him why, he said that I now have Osteoporosis from the waist down and if he performed the surgery, that my "femur bone would crumble like graham crackers!" Not only was I shocked, but in great despair.  In my mind, I thought that any other surgeons would have the same opinion and that I was pretty much doomed and would have to suck it up for the rest of my life.  Another year went by and then I lost my 28 year old daughter.  The sadness and depression of losing her just put me into a tail spin and the pain doubled in severity. I didn't know how I was going to continue to work, get dressed, clean the house, and just even function in daily life.
My husband pushed me to try again with another doctor, so I did my research and made an appointment with Dr. William Leone at Holy Cross Hospital for the beginning of January 2018.  As we sat in the waiting room, we spoke with several of his patients and ALL of them had nothing but wonderful things to say about him.  Although I was excited and hopeful, I thought it probably wouldn't work for me because of the Osteoporosis.  They called my name and took me back for the standard X-Rays and then I just waited to meet the doctor.
I will never forget that moment when Dr. Leone walked into the room with a big smile.  I told him the whole story with tears running down my face. As he looked over the X-Rays and explained all the details to me, he turned to me, held my hand and said, "Nikki, I can do this!!! You will be well again!!  Oh my God, I can't even describe the feelings of relief and excitement that I was going to get my life back.  Dr. Leone performed the hip replacement on April 18th. When he came to see me in recovery, he told me that although my hip really was a mess (probably for waiting so long), that I was going to be fine and make a full recovery.
It has been almost 4 months since the surgery and it is like night and day.  I can do a lot of the things I couldn't do before and I have very little to no paid.  The pain is about 90% less than before as I still have more time of healing anticipated.
I wanted to share my story because maybe someone else is suffering like I did and haven't sought out the help yet.  Dr. Leone gave me my life back and I will be eternally grateful to him and his wonderful staff.
Sincerely,
Nikki Rossman
P.S. If I could help just one person change their life by my letter, nothing would make me happier.
https://holycrossleonecenter.com/storage/2018/12/hip-booklet-cover.jpg
232
359
Dr. William Leone
https://holycrossleonecenter.com//wp-content/uploads/2017/11/Leone-Center-Logo@2x.png
Dr. William Leone
2018-08-09 16:58:43
2018-12-06 15:14:58
First time I could actually dance and it was awesome.